A Love Letter to my Honda Civic
Dependable, Sustainable, Phenomenal, not only are these used to describe me, but also the Honda Civic. Unlike the unreliable sources of opinions that make up the rhetoric of lies  from the opposing article , I'm here to hit you with the facts. Undoubtedly, the Honda Civic is the best 5 passenger car out there. Not only is the Prius far less superior, it is a joke compared to Civic.
As they say treat your body like a temple and your Honda Civic like a princess. Not only do I drive a 2008 Hot Red Honda Civic, I am a frequent passenger of many Civics. The cozy feeling you get when you enter a Civic is simply fantastic, and the heat/air conditioning system is one of the best. In the winter, the Honda Civic literally goes from 0-100 (degrees) in 9 nanoseconds, I counted. The seats are all soft and comfy, and the compactness of the car is great for screaming matches with your closest homies.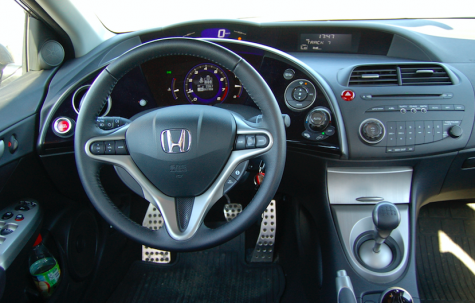 But don't just take it from me, I went around Ames High asking fellow Civic owners their thoughts. When asked what he loved most about his White 2013 Honda Civic, senior Tim Kim, who identifies as a "bro," cocked his head as he smirked: "memories." Senior Emma VanRyswyk, blasting away in her light blue 1998 Civic, on the other hand said: " Compact car with a big personality".
Not that it's any competition, but if it were, the Civic would easily reign Supreme. I admit the Prius's MPG is unmatchable; however it literally puts saving gas before comfort and has an air-condition/heating system that'll leave you freezing in the winter. Honda would never-my civic would never leave me cold. Prius are for robots with no soul while Hondas are for HUMANS who understand that comfort is key.
Putting aside my biases, here are some real facts. According to US News, the 2016 Honda Civic is ranked #1 in compact cars with a stunning safety rating of 10 and an overall rating of 8.9. The 2017 Prius however, didn't fare so well with a 9th place finish on the list and an embarrassing overall rating of 8.3. Finally, its all about the aesthetic. All Priuses look like they have been punched in the face, the Civic however carries that classy sleek-on-the-go look. I have also been in Hayley's Prius, and let me tell you- it's meh. Exterior? Meh. Interior? Meh. In general? Meh.
Why is this even necessary. Civic rules, Prius who?