Linda Telleen-Martens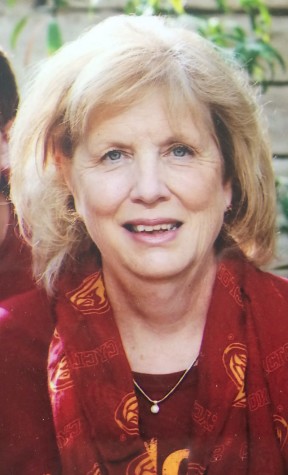 Nestled in a spacious office at the back of the media center, many Ames High students are unaware of the impact that Mrs. Telleen-Martens has had on this school during her 18 years at Ames High. Mrs. T-M is set to retire this year from a storied 44-year teaching career.
Currently serving as the district director of gifted education, Mrs. T-M has worn many, many hats during her time as a teacher, and specifically during her time at Ames High.
"They called me a utility player," says Mrs. T-M, referring to her first year at AHS. "I taught interior design, foods, English 9, computer applications, and ALP English. They had me pushing a cart all around Ames High School."
Mrs. Telleen-Martens began working in the gifted department the first year that it was offered. Her new job became an "absolute passion" for her, and when the position for the district coordinator of gifted education opened up a year later, she filled the role and has never looked back.
The ELP program that Mrs. T-M directs has helped to send numerous Ames High students to some of the most prestigious universities in the nation, including, Yale, Dartmouth, MIT, and Harvard, and has facilitated internships with ISU. The program has also been responsible for the founding and continuation of several clubs within Ames High, including the Ames High chapter of the National Honor Society and the elementary school quiz bowl program.
Despite all that she has accomplished throughout her career, Mrs. Telleen-Martens maintains that she is most proud of her students.
"The students have just taken ahold of this and ran with it," says Mrs. T-M. "They've learned to be self-directed, they've learned to construct learning, and they've learned to go outside of the box, outside the walls of Ames High. I love the fact that I not only get to see [my students] grow and develop here but get to go on and accomplish great things, and that's so, so amazing."
In retirement, Mrs. T-M plans to spend a lot of time at her family's home in the Iowa Great Lakes area, as well as traveling and spending time with her grandchildren.
If you want to know more about the ELP program, talk to your counselor, or email Mrs. Monroe, ELP secretary, at [email protected]