Madrigal Dinner Is Around the Corner!
Did someone say Madrigal?
Let's travel back in time to the days when Kings and Queens reigned!
Let's sit and dine with knights from lands afar, dance together with the lords and ladies, be entertained by the jesters and the strings, and sing Christmas carols with the angelic choir!
The 2022 Ames High Madrigal Dinner is just around the corner!  "You eat, we sing!" is the essence of the Madrigal dinner, a traditional Renaissance theatrical performance, and dinner often held by schools and churches. Infusing comedy, acting, singing, and dancing, a cast of singers serenade the diners with a series of choral pieces often originating from the medieval era. 
Here is what YOU can expect during the dinner
The Ames High Madrigal Performance will open the doors at 6:00 for seating and begin at 6:30 pm each night with a procession of the singers singing "Masters In This Hall." Greetings of the guests will be shared by the show of graciously bobbing their heads with unequaled enthusiasm. Together, everyone will toast a bowl of Wassail (a festive English equivalent to eggnog with no eggs or nogs and just a bunch of amazing ingredients that do not include alcohol), and the night of singing will begin. As you munch on the mouthwatering, three-course meal, a play will be performed by the PlayTroup, followed by more caroling by the singers featuring songs like Throw the Yule Log on Uncle John, Lully Lullay Lulla, and Silent Night.
If you have a certain appreciation for seeing your friends in funky feathered hats and indescribably itchy costumes, fine dining served by (very likely) your own friends, and a performance of a lifetime, come on Dec. 1, 2, or 3 at the Northminister Presbyterian Church. Tickets are $32 which includes the performance and a 3-course meal! Email [email protected] if you would like to purchase tickets or visit him in the choir room in the music wing at Ames High!
Cast
Singers:
SOPRANO
Barnes, Erin – Queen
Hobbs, Jascy
Franco, Gabriella
Yoder, Amelia
Fischer, Madie
Aldaco-Romero, Sofia
ALTO
Borntreger, Lynae – Lady of the House
Tejuca Barrera, Carla
Whitley, Malaika
Cochran, Dillan
Jurgens, Addie
Snyder, Liesl
Allen Azalea
TENOR
Lee, David – Lord of the House
Vis, Samuel – KING
Metcalf, Liam
Foster, Keegan
BASS
Hamilton, Zander
Camp, Noah
Wood, Caleb
Peters, Zachary
Hufford, Elijah
JESTER – Clara Fields
Play Troup
Harvey Haggas
Spencer Koudelka
Caleb Helgerson
Annika Kent
Micah Schumacher
Gabriella Teske
Gabriel Sehmann
Ember Biggs
Torin Chinery
Strings & Brass
Siray Zhu
Payton Stewart
Lindy Green
Keiko Huisman
Ella Strombaugh
Estelle Wong
Meg Vander Wilt
Dominic Sexton
Alok Shrestha
Katie Reisinger
Allie Enyart
John Bouffard
Logan Simmons
Servers
Brooke Bergeson
Johanna Sulc
Adde Stegemoller
Natalie Long
Elena Heerema
Lauren Ewalt
Nathan Kelly
Landon Redmond
Taigen Wood
Alex Brenden
Linnea Abele
Isaac Wood
Lucy DeBoest
Micaela Sulc
Dunkin Bearson
Leo Sullivan
Skylar Samet
Katy Hilton
Caroline Brandon
Quin Barker
Leave a Comment
Your donation will support the student journalists of Ames High School, and Iowa needs student journalists. Your contribution will allow us to cover our annual website hosting costs.
About the Contributor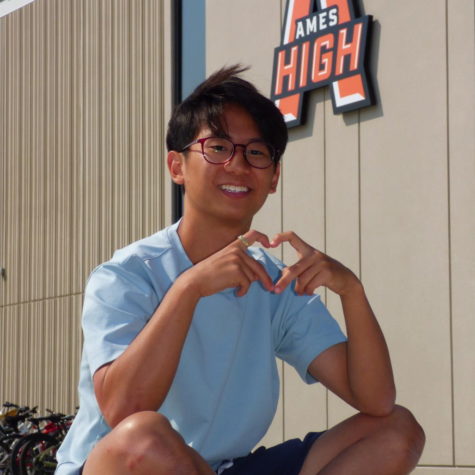 David Lee, Multimedia Editor


David Lee is a senior at Ames High. He joined the Web as the multimedia editor in 2022. This year, he plans to expand the Web into the videography...