Andrew Ellis tames the Maltese falcon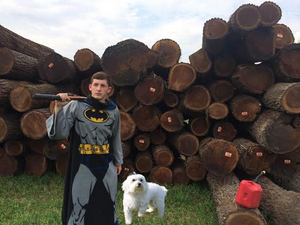 C14, Reporter
September 30, 2014
Stranded on a lonely rock in the heart of the Mediterranean, senior Andrew Ellis spent the last six months pondering his own existence – and which bit of "pretty gross" Maltese cuisine he'd be forced to enjoy next.
The current Ames High tennis phenom and world-renowned sailor was on a trek across the globe when he was tragically hijacked by Somali pirates.  Narrowly escaping, Ellis was set adrift for nearly 40 nights on the wreckage.  After struggling to sustain himself on a diet of "olive oil, rosemary, and fresh bread", the lone surviving castaway was elated to stumble upon a quaint island overrun by a certain sort of toy canine.
"None of that even happened," Ellis said. "I haven't had an encounter with Somali pirates since 2nd grade, and Maltese dogs aren't very common there. I hardly even sail."'
 Though he continues to deny a secret life of battling swashbucklers, Ellis did open up a bit about his experience in Malta. "It was pretty cool to see something completely different from anywhere I've ever been. It's like a really exotic old rock in the middle of a big, cold puddle."
As six months in the middle of a big, cold puddle may seem to get lonely, Ellis was always comforted by his family, who made the trip with him.  He did, however, admit that he missed a few things about his homeland, "I missed quite a bit actually. Friends, tennis, my dog, and cheap food."
 While overseas, this budding tennis superstar was forced to take a sabbatical from the game he loves.  By the time he returned stateside, though, he hadn't missed a beat.  Still playing  in top form, American tennis's "next-big-thing" was once rumored to have defeated the great Pete Sampras in straight sets.  In response to many reports hailing him as the next Novak Djokovic, Ellis remains humble, "No no no no, that's not me. You're thinking of my little brother.  He'll be a freshman next year. Watch out."
 "If I had to rename the moon, I'd probably just call it The Death Star or some clever play-on-words in remembrance of Pluto," Ellis added, strangely.