Ames High Recording Studio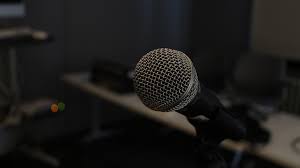 If you attend Ames High School, chances are, you've heard off the notorious coffeehouse sessions held in the auditorium. With it's growing popularity, and massive turnouts, coffeehouse has successfully morphed into one of Ames High's most popular in-school activities. But there is something similar going on behind the scenes; a relative to coffeehouse has been born and is finding its place in a vast array of opportunity. Introducing Ames High Recording Studio.
"Recording Studio kind of blossomed out of the great success that Coffeehouse was having," said student councilor and project supervisor John Burke.
For those of you that have attended Coffeehouse, you know that it serves as a platform for students to expose themselves to the student body in the area of performing arts; most prevalently with music. (And for those of you that have not attended Coffeehouse, go read Sonja's article right now.) Recording Studio, however, takes performing a step farther.
The students are brought into the Multi-Purpose-Room, or MPR, near the school library and are given time to prepare for their performance. Once ready, they are then placed in the spotlight for an audience consisting of the tech/sound crew, two school counselors, and occasionally a few extras. All the while, cameras in the MPR are capturing and recording the performance, while simultaneously streaming the footage to each of the many monitors dispersed throughout the room. The setting is quite different than the project's predecessor.
"There are some really good acts [at Coffeehouse] and we didn't want to limit students to just one lunch period." Burke said. He then went on to present the initial inquiry that fueled the project's initiation: "what if we could take those acts, lay down some tracks, and maybe even use them for other things?" Those other things consist of: radio play on local radio stations, tv play on local tv stations, a broadcast of the recordings during pass periods at school, and personal copies of the audio and video files given to the performers.
So while it is in the same family as Coffeehouse, the Recording Studio serves a different purpose, and, in a lot of ways, gives Ames High students greater opportunity for exposure outside of the school walls, as well as being a neat experience for students and teachers alike. "From my perspective, the energy when we're doing the recordings is something I think the students think is really cool."