Teenager Dreams of Creating Something That Matters With Her Art
In the small town of Ames, Iowa, high school freshman, Emily Rodriguez Jovel aspires to go down in history and change the world with her art.
"I see mistakes as an opportunity to fix and learn from or turn them into something better. Greater. Art is not always about the end result. It's about the process and how fun it really is," Jovel says. 
Emily Rodriguez Jovel, an ambitious artist with hopes to change people's perspectives on the world, talks about how art influenced and currently influences her life. She discusses the process of constantly developing her art and her mind.
14-year-old Emily Rodriguez Jovel has been drawing for as long as she can remember. Ever since she was little, she's been viewed as an artist. From reading books about various artists and always being drawn to the tv show characters that had a passion for drawing, Rodriguez's life revolved around art from the very start.
"I enjoy the process of learning different techniques and expressing myself through my art. I also like it because every time I draw I'm practicing and getting better. Finally, I love giving the artwork that I work on to people to see their reactions. It makes me happy when they like what they see." She goes on to say, "In my family, I'm seen as an artist, and it has motivated me to continue with art, and being seen as an artist made me more confident in my art. This impacted me a lot because I want to do something with my artistic abilities, and I know that my family will always support me."
However, it isn't always this way for Emily. Just as most people do, there are times when she feels that her dreams are too far out of her reach or her art just isn't good enough, but she makes it a point to remind herself that art is subjective. It doesn't just develop overnight, although at times she has difficulty convincing herself of it.
"Practicing is key. I've gone through many pieces of paper and pencils to get to where I am today. Mentally I've developed, too. Instead of being jealous of other artists, I now see it as inspiration to get better and to feel better in my art and as an artist." 
Rodriguez also states that it is extremely unlikely to always have good days feeling confident and having enough motivation to continue after consistently working on a piece. 
"I take breaks and remind myself that I cannot always make beautiful art pieces. When I 'give up' I try another day so that I can continue working on my art skills. The end result always pays off after days and days of hard work, so the hardest part for me is getting to the part where I feel that my art piece is finished," she says.
Stepping out of her comfort zone can be tough; for Emily, it's something she's always struggled with. Although she's always striving to push herself to her limits, some of her best works have come out of what she feels more comfortable and confident doing.
"I love traditional art which means I like to draw on paper, and my go-to is pencil and paper. I don't really like digital or colored tools because I haven't really figured out how to work with bright colors and also because I'm not skilled in coloring or color theory. Shading is my favorite because I know most about it. However, I always try to explore new methods and try the ones that aren't my strong suit in order to improve and maybe find a different one that I'll be passionate about."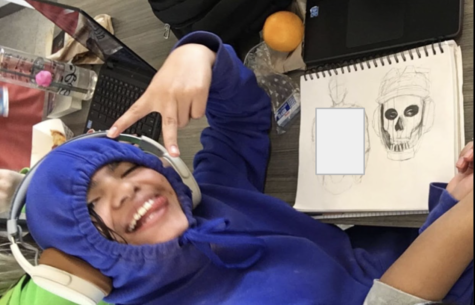 Emily's leading objective for the future is to help change the world with her art and make people happy.
"I want to pursue animating, and I want my projects to either be lessons I've learned personally or something that has an impact on everyone so I can shine a light on those problems and help people. I also just want to make people happy by giving them my art, and I want everyone to feel seen and included with my art," Emily says.
For the current time being, Rodriguez has one main goal.
"I hope to make people happy with my art. I usually do it for others, but when I do it for myself, I tend to express myself through art. That's when I usually try different art styles and different mediums. Overall, though, I love seeing people's faces light up when I show them a piece that I made with my hard work and love, and it makes me happy that they're happy."
Leave a Comment
Your donation will support the student journalists of Ames High School, and Iowa needs student journalists. Your contribution will allow us to cover our annual website hosting costs.