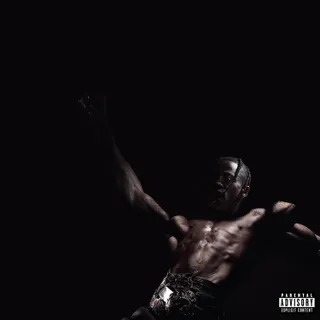 The Houston native's highly anticipated fourth studio album, Utopia, was released over a month ago, yet it still divides fans. From the first few seconds of the new project, listeners could tell that Utopia was going to be a far distinction from Scott's previous work. On the first track, aptly titled "Hyaena," we are first subjected to a nearly half-minute-long, dissonant chant. The snippet is an interpolation from the song "Proclamation" from 70's progressive rock band Gentle Giant, who were known for their unusual style and musical complexity. 
After this, listeners are immediately thrust into the world of Utopia with an extravagant instrumental that sounds like a cross of ancient Egyptian music and psychedelic hip-hop, which makes sense considering Scott attempted to host a concert at the Pyramids of Giza this past summer to promote his new album, which inevitably never came to fruition. Like "Hyaena," most of, if not all of the songs on this project feature stellar production, which is no surprise considering that the album features production from a plethora of studio greats such as Mike Dean, Pharrell Williams, Metro Boomin, Justin Vernon (Bon Iver), Kanye West, and Daft Punk's Guy-Manuel de Homem-Christo. 
While the album is beyond technically proficient, it does fall short due to some of the creative decisions, such as some of the lyricism, multiple questionable feature choices, and a lengthy 19-song-long tracklist. The initial reception of the project has been inconsistent and generally divisive. Pitchfork gave the album a score of 5.7 out of 10, and Metacritic gave it a 67 out of 100, (although the Metacritic user score is significantly higher at 84 out of 100.) In Rolling Stone's review of Utopia, hip-hop writer Andre Gee said Scott is "a brilliant curator, but doesn't have anything interesting to say." Famous music reviewer Anthony Fantano, or, "the internet's busiest music nerd," gave the record a "strong" 7 out of 10. 
While I agree the album isn't for everyone, I think it's a really strong project and I appreciate its unconventional approach and overall sonic complexity. In my eyes, Utopia is eerily similar to Kanye's 2013 record, Yeezus. Both albums featured a world-famous rapper trying a new heavier, darker, more atmospheric, industrial approach to hip-hop, and both were initially received with mixed reviews due to their abnormality. What's really compelling about this, however, is that Travis Scott actually worked on Yeezus extensively back in 2013, before he was a household name. Personally, I love both albums because I find them sonically enthralling and I really admire them stylistically. 
While Utopia may not receive the attention it deserves for a while, I do believe it will gain its deserved recognition in the near future. While sonically, the record may be much different from most other hip-hop albums out right now, the idea of a genre-altering hip-hop album has been in the minds of many big-name rappers in the last couple of years. Kanye West's latest project, Donda, was a gospel, alternative-trap Christian record. Drake's 2022 release, Honestly Nevermind, was a house-inspired pop album, and just this year, Lil Yachty released Let's Start Here, which was a psychedelic-rock/funk fusion.
Personally, I love where the hip-hop genre is heading, and I'm truly excited to see how it continues to change and develop over the next couple of years. Right now, the hip-hop genre is being challenged and pushed into new directions like it has never been before, and Travis Scott is at the forefront of a new wave of hip-hop music. Utopia is yet another momentous step into the future for hip-hop.