Marching On!
Before the sun had reached the horizon, and the cold September wind blew icy through the air, the Ames High Marching Band students and directors (who would much rather still be in bed), reluctantly trudged onto the frost-bitten field. 
"When we perform the feeling of energy and excitement mixed with nerves is unlike anything else," says Senior Drum Major, Lily Nott. "Knowing I practiced and everyone worked so hard during the school practices and that it was about to pay off is such a good feeling."
The long awaited performances of the Ames High Marching Band hold an important legacy in which few other schools can compare. Just like Lily, many students were ecstatic for the 2020 season's performances. 
Covid of course took a huge toll on the Marching Band season, just like it has everything else. What started as one cancellation, turned into cutting the whole season in half and leaving out many exciting events. 
"I was really looking forward to being the Senior Drum Major and I envisioned being in that role in a normal season," says Lily. "So what I got wasn't exactly everything I thought. I do feel satisfied with how much we were able to accomplish despite the circumstances."
The difference in how the band handled it, was by still turning their season into something they could be proud of. The leadership team played an essential role in making this season live up to its full potential, ultimately coming up with the 2020 slogan: Unite to Inspire, Rise up Together, Ames High Band.
I interviewed one of the band directors to get his insight on the challenges that he faced this season. 
"The conditions were constantly changing." Says Chris Ewan. "We would think we had a plan but then something would change causing us to change direction."
Like Mr. Ewan said, many obstacles were present. Still the marching band was able to pull off a well-executed marching band spectacular on October 3rd.
"I was happy that we were able to offer some type of performance opportunity to the students and parents. We realize it was not ideal but it was something that we could look forward to."
 Though this was successful, for many of the students and directors this one performance was not fully satisfactory. This led to thoughts of a possible spring season to make up for the cancelled performances.
"No plans are concrete for the spring marching band but we are considering it." Says Mr. Ewan. "Time will tell as the health conditions will drive many of our decisions."
While the spring season is still up in the air, unfortunately due to safety concerns the band will not be performing in Florida as scheduled this year. It is projected to be rescheduled for spring of 2021.
Within these unfortunate circumstances, the successes of the Ames High Marching Band throughout the toughest challenges, show the dedication and passion of all its members. In years to come, the band will continue to unite and rise up together to hold high the legacy of the years past, and continue to build and grow off every challenge they are given to make the best out of years to come. You can be assured that great things are right around the corner for the Ames High Marching Band.
Leave a Comment
Your donation will support the student journalists of Ames High School. Your contribution will allow us to purchase equipment and cover our annual website hosting costs.
About the Contributor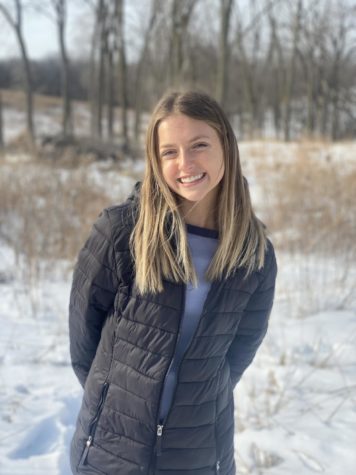 Sofia Mamakos, Editor-in-Chief (Outreach)
Sofia Mamakos is a Senior at Ames High who joined the Web staff in September of 2020. Sofia enjoys being the Senior Drum Major for the Ames High Marching...