Dietrick: An Odyssey through Math
The lights flickered on, the board scribbled with formulas and practice problems waiting to be solved, math teacher Sarah Dietrick starts her day at AHS ready to teach.  I had the pleasure of interviewing Dietrick on a few items, coming from a background of teaching 2 years in hometown of Herington KS, a year in Leavenworth, KS, and finally 2 years in the North Kansas City School District in Kansas City, MO. Here are some things that stood out to me in our interview.
Q: How does Ames compare (smaller, larger, etc.) to other teaching environments, both the city and the school?
A: Herington was a small town of 2000 people with only 110 kids in the middle school, so I was the only math teacher for the entire school. Leavenworth's school was similar in size, however, the town was only about half as big. This was because many of our students lived on Fort Leavenworth, but went to school off the military base. Kansas City was obviously MUCH larger! The North Kansas City School District has about 21,000 students enrolled vs. Ames' roughly 4500 students.
However, the most important thing one should know about any new teacher is the reason why they wanted to teach. This can make all the difference between those who are there to just check boxes and check out or those who are there to truly make an impact and difference in the students lives and their futures. Thankfully, Dietrick seems to follow the latter.
Q: What inspired you to become a teacher?
A: Ever since I was a little girl I have known that I wanted to be a teacher. As I got older I always thought that I wanted to become a college math professor. At some point during college I realized that I couldn't make as big of an impact at the college level as I could with younger students. I was placed in a 6th grade classroom for my first field experience in college, which I thought would be horrible, but 3 days later I called my parents and said "I'm going to teach middle school for the rest of my life." With my family's move to Iowa, I ended up switching to high school as that was the opening Ames had available, but I see that as a new opportunity to learn and grow. I also see it as a way to reach a whole different group of students by showing them that I care about them and that they can be successful if they set their mind to it and reach out for help when they need a little extra nudge in the right direction!
While she has shared a bit of her adventures in this interview,  she definitly has an experience she is willing to share and this interview is merely just the tip of the iceberg, something to help you know just a little bit more about a new face here at AHS!
Leave a Comment
Your donation will support the student journalists of Ames High School. Your contribution will allow us to purchase equipment and cover our annual website hosting costs.
About the Contributor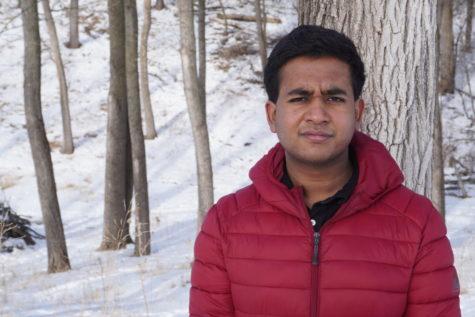 Varun Prasanna, A and E Editor
Varun Prasanna is a current senior at Ames high. When he's not stressing out about school, he likes to play video games and tennis (both of which he sucks...