Tasty Tuesday: A Burgie's Review
On Tuesday, October 12, the WEB took a field trip to the recently opened North Burgies. Two sedans pulled up to the Fareway parking lot, and while the exterior of the cafe left us rather unimpressed, the inside compensated. High ceilings give the space an airy feel, and the African art left on a shelf by former APUSH teacher Mr. Mooney adds a charming touch. The staff was friendly too, especially considering that a line of 10 teenagers had just appeared at their door. 
As for the food and drinks, the Web had plenty to say: 
Iced New York Morning Brew w/ vanilla – Leola Almquist
Black tea is often stereotyped as dull and bitter. It's something I wouldn't drink by itself, so I usually add flavor or sweetener to balance it out. Burgies offers a New York Morning Brew as their black tea option. I was surprised by the elegant, sweeter taste of the brew and would have been equally satisfied without the shot of vanilla. The taste, indeed, is something I'd expect to find in New York, so the name is exceptionally suitable. For a subtle burst of caffeine under 4 dollars, this is the drink. 
Overall rating: 9/10
Iced Americano – Jack Wanamaker 
I'm an avid coffee drinker so an americano is usually my go-to drink. The brew I got was smooth and presented nicely. If you want a simple coffee drink, this is a great option. The price was reasonable and there were no unwelcome surprises. 
Overall rating: 8.5/10
Mocha – Humza Maqsood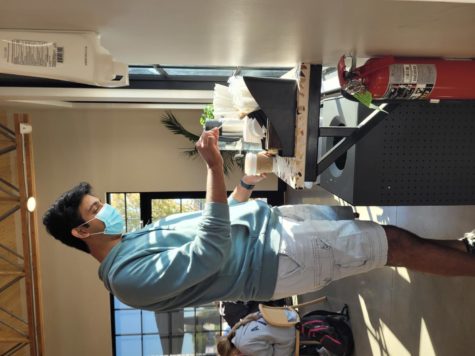 I'd only had Mocha a few times prior to this visit, but they were all either really good or bad, so I felt like I had a good baseline with which to judge Burgies' mocha. It was light, almost airy with the perfect twinge of bitterness that accompanies espresso. The chocolate in the mocha rose up to the espresso to balance out the flavours. I would recommend adding little sugar if you like your mocha on the sweeter side, even with the chocolate. My only complaint was that when I added the sugar in and stirred it, I ruined the complex and delicate milk art that sat atop the foam. I must say it is a solid drink. 
Overall rating: 9/10
Matcha – Sofia Mamakos
For many matcha is a very debatable topic. Though it's a healthier alternative to coffee, many people either love it or hate it. As someone who enjoys the grassy taste and sometimes grainy texture of the green tea, I found that Burgies is the place to go. I ordered a Medium matcha latte and wasn't disappointed. My only regret is getting whole milk over a milk alternative, something that I believe would have brought the matcha to the next level. I also would recommend adding some extra flavoring to make the matcha sweeter and balance out the bitterness. Overall the taste was good and the presentation was amazing. Matcha is a hard drink to master but I was happily surprised on this day.
Overall rating: 8.5/10
Latte – Calia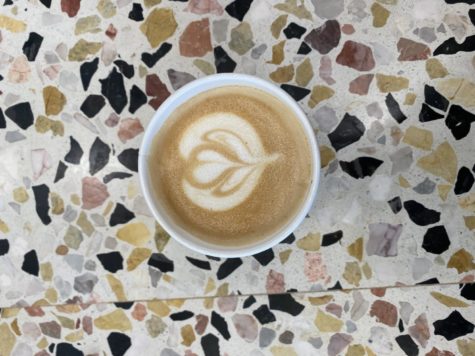 As someone who needs coffee in their life, but hates the taste of actual caffeine, a good latte is the key to an equally good morning. Because of this, the Burgies latte was perfect. Even without anything added, it was not bitter on the tongue, nor was it sweet enough to overpower the flavor of fresh brew. With that said, the aftertaste of milk was pleasant, and for 3.50$, it was worth every penny.
Overall: 8/10
Cappuccino – Sophia Cordoba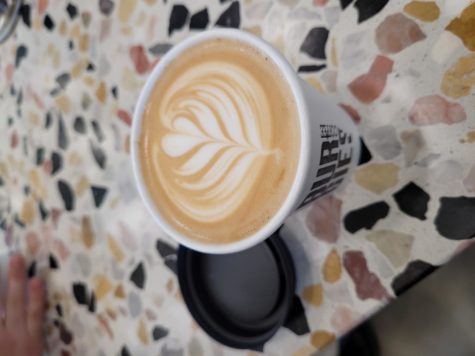 Since most of the staff went for the cold route, I opted for a warm classic. As an avid coffee drinker, this was not my first hit of caffeine in the morning, but certainly my favorite. I generally don't trust coffee shops to give me the espresso I crave, but Burgies defied my expectations. Further, the leafy milk design on top was quite impressive. Also, the price was reasonable. 
Overall rating: 8.5/10
Mocha – Bennett Anderson
Although common, a mocha is a baseline a great coffee shop must have well established. Compared to my previous experiences of mochas, Burgies takes a typical route, while maintaining a stronger "coffee" taste than say, Starbucks. It's not bitter by any means and overall does a great job of balancing every aspect you'd expect to taste in a mocha. 
Overall rating: 8/10
Overall rating: 9/10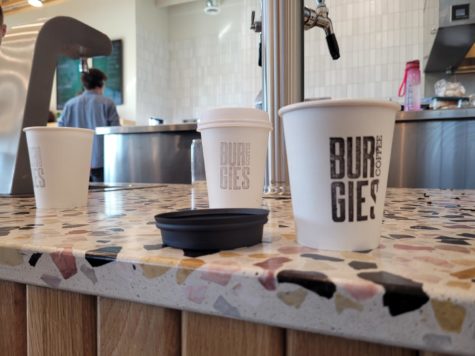 Grilled Cheese with Pepper Jam – Varun Prasanna 
Usually, Grilled Cheese can be a hit or miss for me, depending on how cheesy it is along with the taste of the cheese. I ordered it because it seemed sort of interesting with Pepper Jam and I am not a person who really drinks coffee or enjoys most sweet things. I asked if I could have a smaller grilled cheese because I was scared of how cheesy or if I wouldn't like it. They kindly agreed to make me a smaller one. When I finally took a bite, it was very good. The Pepper jam added a small kick and a bit of sweetness to counteract the saltiness of the Provolone cheese. My only major regret was not asking for the normal size sandwich as it was quite tasty. 
Overall rating: 8.5/10.
Blueberry Muffin – Lily Lupardus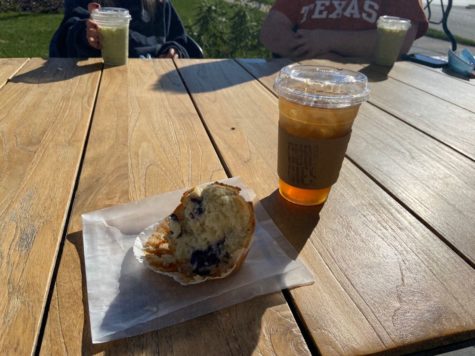 Burgies' muffins met all of my requirements for a good muffin. It was light and fluffy but still had some crispiness around the edges. The blueberries in the muffin were soft, yet not mushy, and there was a good amount of them in the muffin I got. The size of the muffin is also well done. It was big enough that I raised my eyebrows when I first saw it but was able to finish it without feeling sick at all. I brought one back for DJ, and he gave it his stamp of approval as well. 
Overall rating: 9/10
Leave a Comment
Your donation will support the student journalists of Ames High School, and Iowa needs student journalists. Your contribution will allow us to cover our annual website hosting costs.