Welcoming Back Patrick Donovan
Recently the Ames Community School district introduced a lot of new staff members, teachers and coaches to the district. One of which is Patrick Donovan.
Mr. Donovan is a returning instructional coach at Ames High School who specializes in technology. Mr. Donovan has been teaching and coaching for 19 years, in which he spent 9 years at Ames High and is now back. His last few years he worked at Nevada as an instructional technology coach and he also helped coach the Nevada esports team. He is hoping to kickstart esports at Ames High, eventually having all matches streamed with students' commentary and play by play.
Esports has 3 seasons with different games in each season. The fall season is Super Smash Bros Ultimate and League of Legends, the winter season is Rocket League and Overwatch 2, and the spring season is Mario Kart and Smite. Due to the winter season being the first season Ames will play in, they can only pick one title to play which Mr. Donovan was leaning more towards Overwatch 2. 
Mr. Donovan always thought that having esports at Ames would be a great idea, as it gets kids who otherwise would never be involved in anything involved in something. It also helps build skills like communication and teamwork, which are great skills not only to have for video games but are also core skills to have in the real world. 
Recently with the rise in esports, a lot of the community colleges and an increasing amount of 4 year colleges have been offering students scholarships to come play on their teams. Two former students of Mr. Donovan are playing for Simpson with scholarships. 
Donovan looks forward to having a student-run esports program that is going to be around for a while. Currently they are meeting with the gaming club in Mrs. Engekes' room 2 to 3 times a week.
"Ames is a larger school and offers more stuff like the new building." He said when asked about how Nevada and Ames differ. As an instructional coach, he works alongside teachers and helps them implement things into their classrooms. He works with both the office and the teachers and helps troubleshoot technology issues in the classrooms. When asked why he wanted to become a teacher, he said that he really likes to help people and help teach people. He was a civil engineer and then he became a teacher. 
One of his favorite things to do as an instructional coach is to work with students, as he used to coach the esports team at Nevada and one thing he wants to let the students know is that he is always there to help and is excited to get the esports program started at the school. In his free time he loves to play Fortnite with his son and loves to go hiking. He is a big Vikings fan as well. One fun fact about Mr. Donovan is that he owns every Nintendo console ever made.
Leave a Comment
Your donation will support the student journalists of Ames High School, and Iowa needs student journalists. Your contribution will allow us to cover our annual website hosting costs.
About the Contributor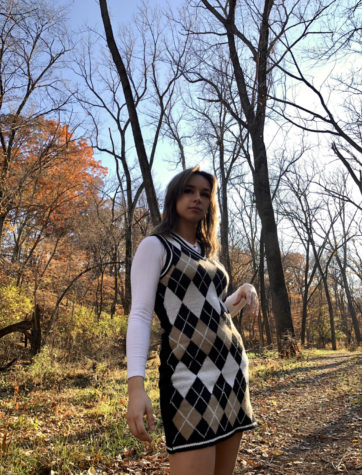 Celeste Symons, Sports and Activities Editor
Celeste Symons is a senior at Ames High. She joined the Web in August and she enjoys going on runs in Munn Woods, playing tennis and soccer, and sleeping....