Camille Jackson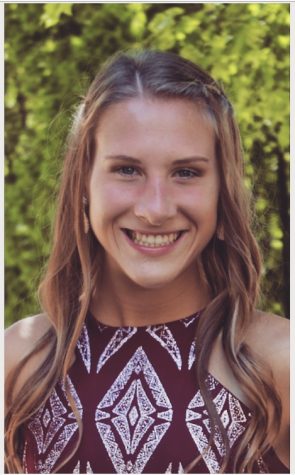 Sore feet. These two words sum up junior Camille Jackson's life in a nutshell. She fell in love with running at the age of 7 and took it seriously since freshman year. Not only is she a part of Cross Country but also Track, Dance Marathon, Orchestra and National Honors Society.
When asked about her future plans, Camille responded, "I definitely plan on running in college but I also want to pursue a liberal arts degree or maybe something related to foreign affairs. At this point, I'm just not sure."
Her thoughts on life are quite unique, Camille has one quote that she lives by, "You live every day, you only die once" she said. This is something she keeps in mind before every meet and test because it apparently boosts her self-esteem and inspires her. This quote is revolutionary for her because it reminds her of Dwight Schrute.
If you know Camille, you would also know about her extremely busy life and schedule. According to her time management is very important especially in high school. "I know how hard it is to manage all the homework and then sports but I like to keep it balanced. I know grades are important but at the same time I don't want to miss out on high school and the fun."
On top of her busy schedule, she likes swimming, paddle boarding, skiing, biking and hanging out with her friends. Camille has an adventure bone in her body, she would love to travel to other continents and explore the different countries and their cultures. "If I ever got a million dollars I would definitely go on a world tour for a whole year. I would love to get a job that has a lot of traveling in it so that I could explore more" said Camille. That is something she would certainly check off her bucket list.
Camille has a lot of achievements to be proud of in her life right now but when asked about what she considers her proudest moment she responded, "My proudest moment would probably be when I got a 100% on an APUSH quiz." Simplicity at its best. According to Camille, Mr. Mooney is the ideal high school teacher. Although he has his fair share of hard tests, she considers him as a great and fun teacher.  
If she could give any advice to her freshman self she would have a lot to tell. "Freshman year was memorable but I would say that don't take school too seriously (too seriously) and don't stress about every single thing. It's not the end of the world if you don't get an A or don't get into a team because there are a lot more things to focus on through high school. Just enjoy it."
Leave a Comment
Your donation will support the student journalists of Ames High School. Your contribution will allow us to purchase equipment and cover our annual website hosting costs.
About the Contributor
Akshata Gandhe, Reporter
This is 17-year-old Akshata's second year on the WEB. Close to 95% of the time she's procrastinating in life and crying about it later. When not watching...