25 Days of Movie Madness
Starting December 1st, ABC Family airs its 25 Days of Christmas special . Each night features multiple holiday-themed movies teaching valuable lessons about not shoving cookies into the VCR. There's nothing like Elf for the fifteenth time! This onslaught of movies provides ample opportunity throughout the holiday season to stop whatever you are doing to watch and reflect on how many grueling days are left until the sweet freedom of pre-finals break. However, the only thing more depressing than Charlie Brown's tree is the fact that this celebration ends the 25th. Why not go the whole month? Is there something significant about the 25th of December? Even better than their classic childhood movies are ABC's made-for-TV movies advertised for what seems like months before the premier. This year's hit will be The Mistle-Tones, a musical in which a young girl fights for a spot on a local Christmas musical group. You know what they say, a movie is only as good as its pun! Yule love it! However, some people don't love it. "ABC Family has dumb movies like Mean Girls 2 and stuff with Serena Glomez," junior and TV watcher Kendall Stow said. "That's her name, right?" Despite its holiday title, the glorified Advent calendar does offer some non-Christmas movies such as Harry Potter and the Half-Blood Prince and Disney-Pixar movies like Toy Story . This way, everyone can feel comfortable watching the movies each night. "I don't have cable," junior Carrie O'Connor-Walker said. Well, not everyone.
Leave a Comment
Your donation will support the student journalists of Ames High School. Your contribution will allow us to purchase equipment and cover our annual website hosting costs.
About the Writer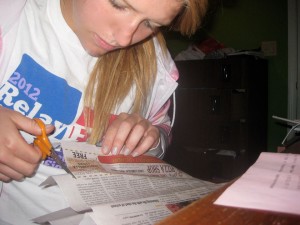 Madeline Topf, Editor-in-Chief
Mixmaster
Adorer of Birkenstocks, with or without socks
Daryl's cone picker-upper and goal putter-awayer
Eater of fine Donuts
Ligature hoarder
I...