Reichart Family Expands
Hang on for a minute...we're trying to find some more stories you might like.
Having a child is never an easy task. Waiting for the birth, preparing rooms, choosing names… It can be stressful, but is an exciting time. When adding a child in another way, though, a whole new set of issues crop up. Ames High German teacher Sam Reichart has more experience than many would believe possible. After adopting his son, Ian, from Ghana two years ago, his birth mother requested that he and his wife also adopt the baby she was expecting. When Reichart traveled to meet his new little girl, Samara, he got more than he had anticipated. "A week before we traveled to Ghana in November 2011 to meet Samara for the first time, we were informed that Ian's birth mother had an aunt who was placing her youngest three of ten children up for adoption, as their father was deceased and she had no way of caring for all 10," Reichart said. The once-small family met the other children, and instantly fell in love. "We had to make quick and unanticipated decisions, but after spending a week with all the children in Ghana, it was an obvious choice that this was the family that had always been intended for us." Upon returning to school after his visit, Reichart asked the opinions of his classes. Debates were had, and people of all different backgrounds had good points about different factors the family should consider, including the space needed, how the children would adjust, and the sheer cost of adopting four more children from a foreign country. In the end, everyone agreed;once he had considered it, there was no going back. The family of three was about to over double in size. Once the decision was made, the adoption process could begin. Even though they had already adopted Ian from the same area, the process was difficult. "Adoption is rarely, if ever, easy. The process for Emmanuel, Abby, and Mary was extremely complicated and government bureaucracy reared its ugly head in ways we never could have fathomed." However, persevering through the issues, the kids came home over Winter Break. Though it is a big adjustment, Reichart says that everyone is doing well. " They love the snow and are always wanting to ride bikes outside. New foods are being tried each day by both the kids and us. They like extremely spicy food, but almost nothing sweet." other favorites of the kids are things we take for granted, such as running and hot water, electricity, their beds, and the variety of food they have available. As for school, they'll have to wait until they get their citizenship papers, but are "eager to start." They should have a good start, as they speak two dialects of Twi (local African language) and are quickly learning more English. Also, eventually, "German will come." Luckily, the Reichart's have local friends from Ghana who provide daycare and homeschooling twice a week. "She speaks Twi with us and helps with so much of the communication. Recently, for example, she helped with a situation in which we were assigning household chores to each child. Emmanuel, who has been so eager to help with everything since day one, had a bit of a meltdown. As it turns out and he was able to explain through this friend, he was upset by the fact that we were offering him an allowance and he was not able to understand why he would receive money for helping as he felt he could never help enough to repay us for what we've already done for him." Happy that all the children are settling in, and excited for Samara to join the family within the next few months, Reichart feels his family is complete. "Having been through 7 failed adoptions, both domestic and international before adopting Ian, we also felt that now having a family of 7 was sort of bringing us full circle."

About the Writer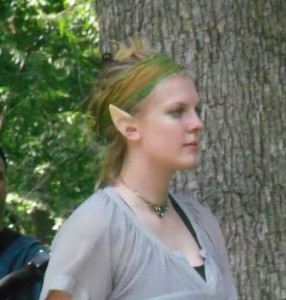 Jamie Steyer, Editor-in-Chief
Jamie Steyer is one of the terrific trio of Editors-In-Chief. In addition to writing for the WEB, she also writes news stories for the Ames Community School...