The Perserverance of Ames High Girl's Basketball
When you think of Ames High Athletics, the Girls Basketball Team may come to mind. Recently, senior Ashley Iiams reached the 1,000 career points mark after her 500th rebound in a game against Pella on Feb. 9. Another senior making big moves is Caroline Waite who set both the school all-time (1,240) and single-game (38) scoring records in a win against Mason City on Dec. 18, 2020. 
Battling the Barriers
Leah Tietjens, a 5'9'' forward senior, has been on the team all four years. This year was different than most for her, but, with the help of her teammates, she and the team powered through it together. "Overall, I would say it was a good season because of the team," Tietjens said. "The team just made it really good. It could have been better playing wise if we would've had all of our people playing all the time, because that was a big issue."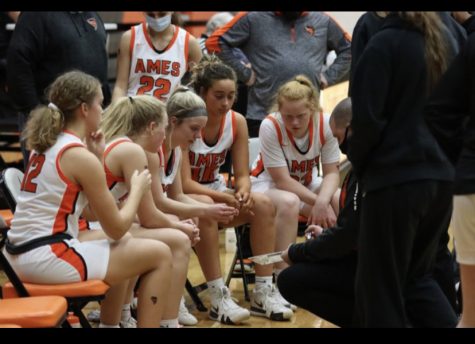 Just like everything else this past year, the Covid-19 pandemic affected the basketball team, but it wasn't just the pandemic that took a toll on the girls. "It was a tough season," Tietjens said. "We dealt with a lot of injuries from  players, so we were pretty much facing adversity the whole time. One week into the season, we got shut down to go online, so those two weeks were kinda hard because we couldn't figure out how to practice and we were getting behind. When we finally got going, it just felt like everything was going against us because we kept getting injuries and people were out so it never felt like we had our whole team."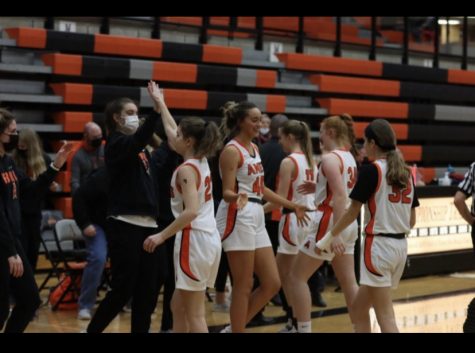 Teamwork Makes the Dream Work
With each season that comes, the team bond may fluctuate. There's always the freshmen that seem to stick out. However, this was not really the case with this team. ¨We were all pretty close to start with, even before the season started we were all pretty close," Tietjens said. "Even the freshmen we didn't know before, we got them involved as quick as we could. I think it was because from past years we didn't really do that and people would get left out so we, the seniors went into the season really thinking we want to make this year different, we want everyone to be included and feel like their voices are being heard."
With a strong team such as the Ames High Girls Basketball team, it is much easier to overcome obstacles and issues that one may face. One great feeling of accomplishment is winning a game; however, it doesn't have to be. Friday, Feb. 12, 2021, Ames High faced Ankeny in an away game, the result being anything but amazing for the Ames team. However, to Tietjens, it felt like the best they played together in a while. 
"It was after Ashley got injured; we had a game against Ankeny and we were all like 'Lets just go out there and play. There is nothing we can do except go out there and try our best' and that game felt really good even though we were down one of our best players," Tietjens said. "It felt really good because our defense was good and it just felt like everything was falling together. We were playing well. We didn't win the game but to us it felt like a win because we had been in such a slump lately that we just weren't playing well together and that game just fell into place and everything felt really good." 
Seniors Stronger Together
On every team there is always that one person one looks forward to seeing. For Tietjens it was fellow senior Brooke Spraggins. Before the season started, Spraggins tore her ACL and was never able to play this season. However, that didn't stop her from going to practice and seeing her teammates. 
¨I was really sad but every time I'd see her [Spraggins] at practice or at a game it would always make me feel better," Tietjens said. "Because we have the same energy,  if something was getting me down at practice I was able to go to her and we would just make each other laugh and everything was okay. So, even though she didn't get to play it was still really fun and I feel like we got to know each other better." 
End of the Season
The Girls' team ended the season 8-11, having faced many obstacles and hurdles to jump over. Although through the pain of this season, there was joy and triumph.
Tietjen's mind now turns toward others.  "I think the guys are going to go really far," Tietjen said. "They are looking really good and they have a lot of really good athletes on their team, so definitely state qualifying is not out of reach at all. I feel like they can make it pretty far in the state tournament as well. They have a good team with some really good athletes like Corey, Casey, Tamin, Trevion and Keyshaun. They are really stacked and each person brings their own thing to the table, and they all work really well together so it's really fun to watch them if you ever get the chance."
The Boys team beat Ankeny Centennial on March 2, 2021 with a score of 57-37 in the SubState Final hosted at Des Moines East.  This will advance them to play in the State QuarterFinal against Council Bluffs Lincoln at Wells Fargo Arena on March 10, 2021.
Leave a Comment
Your donation will support the student journalists of Ames High School. Your contribution will allow us to purchase equipment and cover our annual website hosting costs.
About the Contributor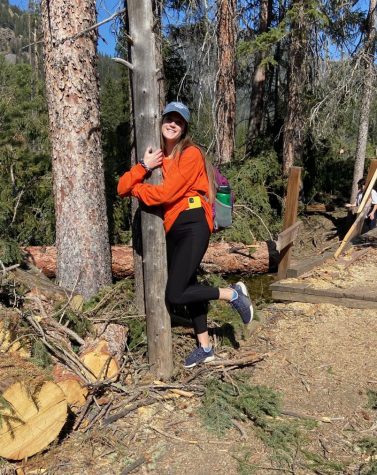 Erin Murphy, Editor
Hi I'm Erin. I joined the Web Junior year. I play sports, I am in some clubs. and If I'm not being athletic or doing homework chances are I am watching...