Ames Track and Field Takes on the Drake Relays
Stands packed to full capacity, the spectators knew the worth their ticket held. Some of the best track and field athletes in the nation compete at the well known Drake Relays. A day is reserved for high school competitors each year and this year Thursday, April 22nd, 26 Ames High athletes headed down to Des Moines to compete in the Drake Relays. The Web spoke to Senior High Jumper Tate Zalasky and Sophomore Sprinter Cameron Moon before they left. 
Both Zalasky and Moon who have not been able to compete at the relays before, expressed that they were looking forward to the competition. "Obviously it's the biggest, most competitive competition I've ever gone up against because it is all classes. I think it could be very fun and exciting and we'll see how it plays out," said Zalasky. 
Moon, who is involved in both the track and soccer teams says having the coaches on the track team are some of the best parts of being on the team. "I'm glad I did both sports. Coaches Schmaltz, Duea, all of them, Vertanen, Mooney, Paul; they really push us every practice, making sure we aren't comfortable where we are and always pushing us to get better," says Moon. "I definitely like the environment, the coaches and the players, boys and girls team. We work really well together. Co-ed meets are really fun and it's always a good competitive environment."
In a shared sentiment, Zalasky expressed his appreciation of how the coaches commit themselves to the team. "I would say first of all, there's no one more supportive than your teammates, and coaches. Coach V has put in a lot of time, being head sprint and high jump coach, so he's making sure he's doing both workouts for us and he is really invested," said Zalasky. 
Bright and early on Thursday morning the athletes and coaches headed down to the blue oval. ¨I think if we just stay focused like we have all the other meets that we are going to have success," said Moon. Indeed, success was found, multiple times.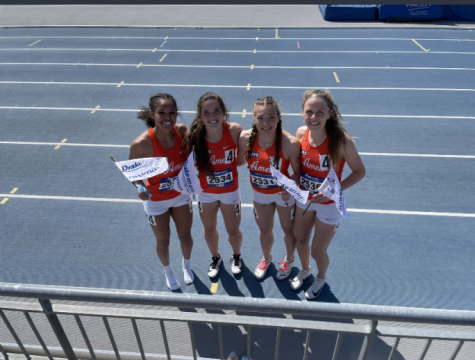 Ames started the day off strong with a win in the girls sprint medley team of Elaina Deardorff, Ireland Buss, Morgan Engels, and Cameron Moon. Moon was also a competitor in 4×200 and the 4×400 relay, both of which were also champions. The 4×200 with Cameron Moon, Olivia Jones, Ellie Lynch and Morgan Engels finished with a time of 1:42.36. Just breaking 4 minutes, those same girls in the 4×400 had a finishing time of 3:59:22. The girls team as a whole won the Relays Cup, marking this as the first time Ames Girls have ever won this distinction.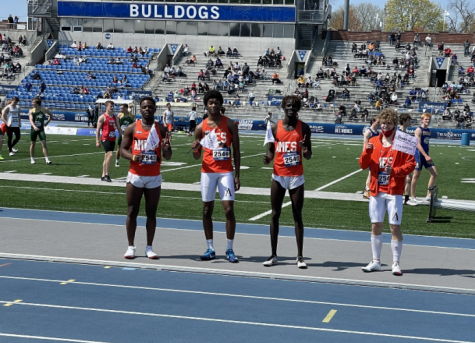 The boys team ended the day as champions of the Distance Medley with a time of 3:32.01. Runners were Sam Armstrong, DeAndre Issac, Savion Coleman, and Aniey Akok as anchor. Senior Akok later pulled through to win the 800 meter with a time of 1:56:01. In high jump,  Senior Tate Zalasky placed third with a height of 6 feet 5 inches, nearing his new best of 6 feet 7 inches and senior thrower Gabe Greenlee threw 169 feet 11 inches in the Discus event. 
Both athletes and Coaches alike wore a patch on their jerseys and jackets in honor of former Coach John Sletten who passed away this past September, leaving behind his impactful legacy. 
State is coming around the corner with less than a month left to prepare. "I am hoping for a team championship too, I know we are capable of it so as long as we perform, I know that we can do it," said Zalasky.  ¨Go Ames!¨
Leave a Comment
Your donation will support the student journalists of Ames High School. Your contribution will allow us to purchase equipment and cover our annual website hosting costs.
About the Contributors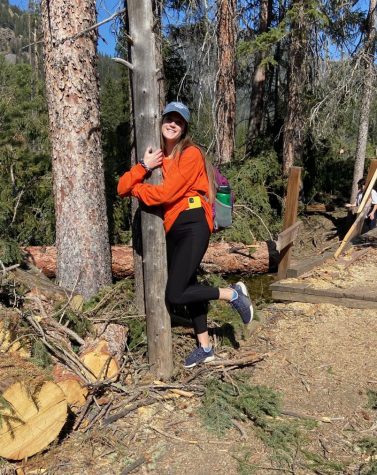 Erin Murphy, Editor
Hi I'm Erin. I joined the Web Junior year. I play sports, I am in some clubs. and If I'm not being athletic or doing homework chances are I am watching...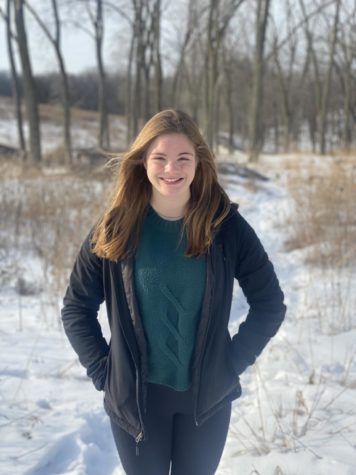 Leola Almquist, Features Editor
Leola is a senior who joined The WEB in early 2021. She spends her days running, biking, and driving around listening to music.