TJ cups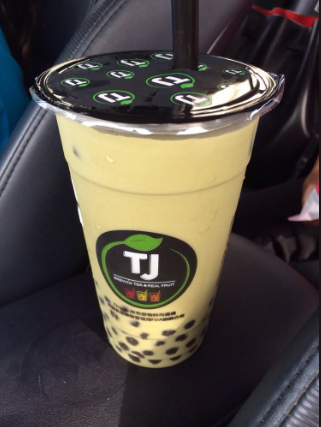 When I walked into TJ Cups on a Tuesday afternoon, among other brightly-colored baubles and asian goods, I saw an assortment of little bonsai trees resting on shelves. A menu on the wall featured an array of iced tea, milk tea, smoothie and "boba pearl" drinks. At TJ Cups, a San Francisco based company, one is given choices as to what to put in their iced tea, milk tea or smoothie. This includes cream, a jelly-like substance, boba pearls and/or fruit.
I ordered the green mango bits milk tea. This included boba pearls as well as small chunks of mango at the bottom. It was a tan, cream-like color. It came in a neon-colored closed plastic cup and I was given a thick straw with a sharp point at the bottom. When trying to stick the straw through the plastic covering on the top of the cup, I had many difficulties- but once I managed to get the straw into the drink and taste it, the taste of the tea made everything alright.    
The taste was somehow youthful and fruity but not overwhelming in the least. It was moderately sweet but tasted as if it were absolutely natural. In general, I enjoyed the atmosphere and the feng shui of the room. The tantalizing taste of my drink was only a mere addition to the enjoyment I received from going to TJ Cups. In general, I recommend this tea place to all who enjoy smoothies and tea alike.