Nausicaä of the Valley of the Wind Will Blow You Away
"Nausicaä of the Valley of the Wind" is a fantastic movie from Studio Ghibli creator Hayao Miyazaki. It is a beautifully animated movie set in a post-apocalyptic future where most of the world's ecosystem is ruined, and the inhabited areas are threatened by a toxic jungle with massive bugs. It tells the story of a young princess Nausicaä who frequently explores the jungle, is an incredible glider pilot, and tries to bring harmony between humans and nature.
The English version of "Nausicaä of the Valley of the Wind" is voiced by many well-known actors such as Patrick Stewart, Mark Hamill, Edward James Olmos, Uma Thurman, and even Shia Labeouf.  Some dialogue was dull in places, but that could be due to translation from the original Japanese or just poor script writing. The main character Nausicaä, played by Allison Lohman, executed the character's emotion really well.
"Nausicaä of the Valley of the Wind" is one of my favorite Studio Ghibli movies. I like the unique artwork, charming music, and the story's message. Nausicaä's character is a strong female protagonist who is courageous and compassionate. For instance, in my favorite scene Nausicaa removes her breathing mask in the toxic jungle to convince her companions that everything would be okay. The climax of the movie is emotional yet hopeful.
"Nausicaä of the Valley of the Wind" has a strong environmental message. I feel Miyazaki tried to convey a message of hope, but that humans need to respect nature instead of consuming it for our own gain. In Miyazaki's own words, he said, "I think that in the essence of human civilization, we have the desire to become rich without limit, by taking the lives of other creatures." Nausicaä shows if we live in harmony with nature, it not only benefits nature but also ourselves.
I believe "Nausicaä of the Valley of the Wind" would appeal to people who enjoy animated movies for their aesthetics, anyone who appreciates a good story, and anyone who promotes the environment. I think fans of Studio Ghibli who have only seen their more popular films such as "Spirited Away" or "My Neighbor Totoro" would also enjoy this movie. The MPAA rating is PG, and I think the movie is appropriate for all ages except young children or those sensitive to animated violence.
Overall, I highly recommend "Nausicaä of the Valley of the Wind." I give this movie 4.5 Totoros out of 5.
Leave a Comment
Your donation will support the student journalists of Ames High School. Your contribution will allow us to purchase equipment and cover our annual website hosting costs.
About the Contributor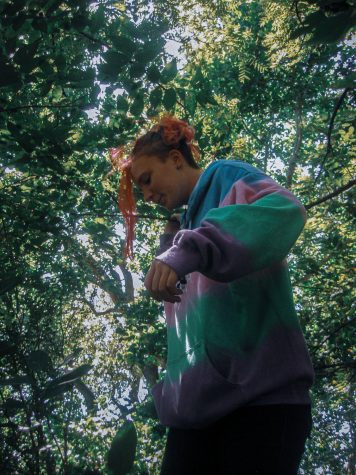 Corinne Sailor, Artist
"Manic rat"

I do art feel free to give me suggestions for comics

IG: queenjellybones