Fall athletic teams shine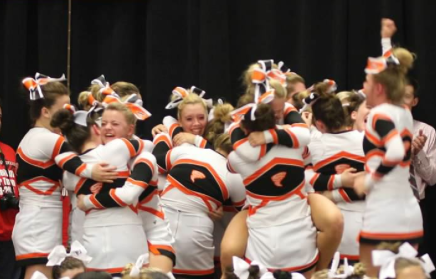 State Competitions have been around the corner for many sports at Ames High. Swimming has yet to take their chance for their 4th state champion title. Cheerleading and Cross Country took the lead a couple weekends ago, with the cheerleaders placing first, girls cross country country placing second, and boys cross country placing eighth. Football has been continued the winning streak by winning against Urbandale, 72-37, and finished out the season with a loss to Valley.
Girls Cross Country really pushed and did extremely well at their state competition, with the help of junior Caroline Marnin. Getting 6th place, she made All State Cross country. "I'm so happy I made not just 4A all state, but elite All State because its really nice to see the payoff from the hundreds of miles of training I put in. This was a great season overall because I've accomplished so many of my lifetime goals, " said Marnin.
Having such talented and motivated athletes makes Ames a great place for sports, but what is superb is the students who come and support their classmates. "I really fed off the energy of the crowd because there we a lot of ames fans, and that was great because it kept me distracted, " said Marnin.
Groups of Ames supporters were also filling seats at the State Cheerleading competition the weekend of November 2nd. Fans swarmed the five-minute seating section in order to get good seats and cheer on their own cheerleaders. Most fans stayed until the end of a long list of routines to see the squad be placed in first. The cheerleaders burst out when their name was called last in their division, achieving state champions once again.
The girls swimmers and divers won Regionals for the 4th year in a row, and snatched the state title once again. Though they had to battled the football game for fans to come and watch the divers perform November 7th, they had plenty support the next day from other AHS students. Sara Bentley, Sydney Sorenson, Grace Snyder, and Katie Sailer swam a 200-yard medley relay, beating Pleasant Valley by less than 2 seconds, which ended up as a new State Record. Sara Bentley, won the 100 backstroke. The girls finished with a score of 302, 53 points up from their runner-up. To win for the fourth time was all that the girls swimming and diving team has ever known how to do.
The fall season has been very promising for Ames High athletes and continued to be an exciting time as the seasons came to a close. As winter sports come around the corner, they have a lot to prove against what fellow classmates laid before them. And no matter how each team will do at their next competition, there will be enthusiastic fans there to cheer the athletes on.
Leave a Comment
Your donation will support the student journalists of Ames High School. Your contribution will allow us to purchase equipment and cover our annual website hosting costs.