"Get Hard" Review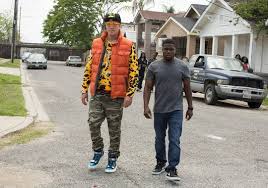 When Will Ferrell is cast in a movie, expectations are immediately high. He's quite clearly the second best actor of our generation (behind Nicolas Cage, of course) so every movie in which he appears is a must-see. After hearing Will Ferrell was going to be in "Get Hard," an esteemed movie critic such as myself HAD to see it.
The movie starts out unlike any other movie. A well-off businessman is framed for fraud and has 30 days to get his affairs in order before going to prison. He hires a black man (played by Kevin Hart) to help him get prepared for life behind bars, because stereotypes are always true and all black men go to prison.
During his preparation, he finds prison life is going to be harder than he thought. However, Ferrell believes he is innocent. He vows to find the man who wronged him and he hopes justice will be served. This is a fantastic plot, since there has literally never been a movie about a protagonist being wrongly accused of something and trying to find a guilty antagonist.
But seriously, the casting for this movie exceeded my expectations. Kevin Hart was funnier than I had previously thought and Will Ferrell was right at home making racy jokes. Rapper T.I. makes an appearance as well, further adding to the star power in this movie.

Overall, the humor was both juvenile and raunchy, in typical Ferrell fashion. "Get Hard" isn't meant for kids or, frankly, anybody with a distaste for genital-related humor. If you're not a huge Ferrell or Hart fan, "Get Hard" probably isn't the movie for you.