Closing Street Compromise
Hang on for a minute...we're trying to find some more stories you might like.
The worst thing about summer is the road work. It creates traffic and chaos. This year, it was 13th street's turn. The previous 4-lane road was turned into a 2-lane roadway as construction workers added a much needed sidewalk to the North side of the street. The construction took all summer, and is taking even more to get the whole road fixed. Because of Furman Aquatic Center being right by the construction, the City of Ames did not want to close 13th and make the pool users go all the way around town just to get to the pool. They did however, decide to close the road to through traffic the day after the pool season ended. Because the city waited to close 13th until after the pool closed, that also meant waiting for school to start to begin the construction. For all west-side (and some south-side) students, 13th is the main route to take to school. By not having that road open, students are forced to go from Stange, then to turn right onto 24th, and right again leading onto Hayes. This doesn't seem like a very big deal, and it wouldn't be if that wasn't the main route to school for North-side students. This route is busy enough, and it will be even busier now that 13th is closed. There are some alternative routes, but those too are very cluttered.
To try and relieve the traffic, the city offered up the Furman Aquatic Center parking lot as a way for teenagers to avoid the traffic jams that the other routes provide. It does come with a catch however, the students who park at Furman will have to walk up a relatively steep hill, almost a 15 minute walk. In order to compensate even more for having 13th closed, the city also decided to provide students with an easy-to-go breakfast that would be awaiting the students arrival at Furman. This breakfast included juice boxes, granola bars, and apple sauce. They were planning on doing this several times a week, but decided to give out breakfast every day of only the first week.
When talking to students about how they felt about walking up to the high school, Junior Nicole Cho responded "Well in the beginning, I was actually really excited because I thought a lot of people were going to be there, but when I went, there were maybe 5 people, so that was a bummer. Walking up wasn't too bad because the morning wasn't hot, but the walk down was pretty horrid because of the heat."
Living on the west side, I did try parking at Furman the first day of construction. The walk up really wasn't bad because I had met up with friends but when the last bell rang, I walked out of the school excited to go home but then remembered that I had parked 10 minutes away at Furman. It was pretty disappointing, and also very hot because the temperature that day was around 90º.
The closing of 13th street during this time of the year was not ideal, but the city did a good job of trying to give students options of how they could get to school. Hopefully in the future they will plan better, and see that students getting to school on time without having to get up earlier (we are all sleep deprived lets be real) is more important that citizens getting to the pool.
About the Writer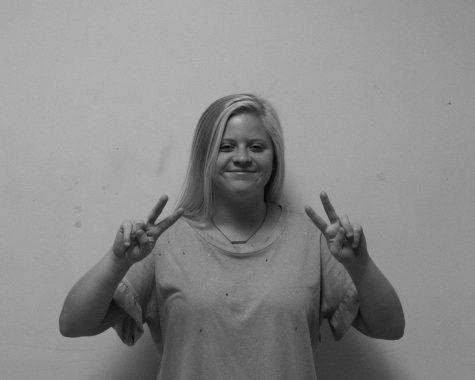 Sonja Paulson, Profiles Editor
At the top of her class, Sonja Paulson is doing nothing but thriving. She has exceeded her own expectations by not only dressing somewhat well 3 times...