Gorman the Great
The singular orange classroom in the building, Mr. Gorman's room is practically an Ames High spirit room, but with a calming effect. Stepping foot in the room, Little Cyclone pride rubs off onto you. Representing his love for math, the iconic "GSQUARED" license plate is a sign of Mr. Gorman's profession as a math teacher. 
It all began in the fall of 2011. After building a base at the new Ames Middle School since 2004, Mr. Gorman came up to Ames High School to teach. This will be his last year teaching. 
"I feel very fortunate, very blessed, to be teaching at Ames High and the one reason is- I don't know that many people know this is i'm a 1981 graduate of Ames High, and so when I started teaching, one of my goals was to come back here and teach because I really do hold the motto 'Ames High, Aims High' in a special place in my heart," Mr. Gorman said. "I feel very fortunate to be able to come back and to provide an education to a school that provided me with a great education." 
There have been a few Gormans in and out of the building over the years, as Mr. Gorman's kids were also graduates of Ames High. To Mr. Gorman, a favorite memory in his years at the school was at graduation. "To sit down there and give them [his children, Hannah and Jacob] a high five and a hug as they're going up there to receive their diploma was special to me. I also feel fortunate to have had the opportunity to work with my oldest child, Josh," Mr. Gorman said.  
Algebra, Geometry, Algebra 2; all daunting classes required to graduate. Whether they interest or bore you, they're essential and happen to have been taught by Mr. Goman. Those beyond Algebra 2 are most likely familiar with the acronym SOH-CAH-TOA. Mr. Gorman prefers to add a twist to the acronym in story form. It went along the lines of "the doctor told me to SOH-CAH-TOA." Perhaps your most difficult, Mr. Gorman's favorite class is ultimately Algebra 2. 
"The reason it's my favorite class is because I think in Algebra 2, students finally start to see why Algebra 1 and Geometry were important, it all starts coming together," Mr. Gorman noted. "The biggest thing is when students who are taking the ACT or maybe the second time, they would come back after taking that and make comments like 'Mr. Gorman, I remember doing this in class; it helped me on the ACT.' There was a benefit outside of school for students."
A familiar face in the math department, Mr. Gorman has also been well established in athletics. This summer will be his first in around fifty years without playing or coaching softball or baseball.
"This summer, right now, my plan is just to relax and take it easy," Mr. Gorman said. "It's going to be nice to just wake up in the morning and if my wife and I decide to go somewhere for the day or for the weekend we can just pack up and go."
Aside from Mr. Gorman's retirement plan, his classroom neighbor, Mrs. Ullola, jokingly plans to paint his room pink. "We're all going to miss him," Mrs. Ullola said. Mr. Gorman does plan to be a fellow sub with Mr. Jurgenson in the years to come. 
With a wrap, Mr. Gorman said; "As I'm telling my classes this week, this hasn't been an easy decision because I love what I do. I love getting up and coming to work everyday and I don't know how many people can say that. Every day I just enjoy being here."
View Comments (1)
About the Contributor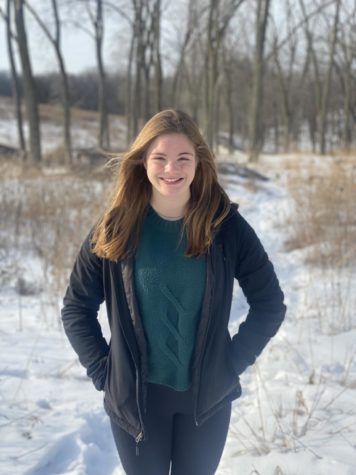 Leola Almquist, Features Editor
Leola is a senior who joined The WEB in early 2021. She spends her days running, biking, and driving around listening to music.