Is Graduating Early Worth It?
Two former Ames High students share their experience with graduating early, and how that choice affected their lives.
For a small group of students, high school doesn't end with tossing a cap in the air with the rest of their class as confetti rains down on them. It might not even end in a celebration at all. Some students in the same age group are already out of school. Some graduated a semester or even a year early. 
Graduating early isn't an option that many high school students consider seriously. Aside from the fact that it's uncommon, with fewer than 3% of students in the United States graduating high school early in 2004, it can be hard to make a plan for what comes next. Do you go to a four-year university, or start classes at a community college? Do you go to college at all, or start at a trade school? Two former Ames High students who graduated early gave their input. 
Ellyn Foglesong, who graduated after one semester of senior year, shared the path they took toward early graduation. 
"During class registration last year, I inquired about several college courses and was told the school board would look into them. When schedules were released, I saw that I didn't get into any of the courses I had asked about." 
After seeing that schedule change, Foglesong had their schedule modified to fit all the credits they still needed into one semester. As for deciding on future plans, Foglesong now has more time to think it over. 
"This time last year, I would have said I was going straight to college to become a social justice Journalist at Mizzou," they said. "While that isn't off the table, I decided to wait a bit, take time to work, figure out exactly what I want to do, and fund my future endeavors." 
Along with taking more time to consider what they want to do going forward in life, Foglesong has been able to pursue other activities they hadn't been able to before. 
"It has been simultaneously underwhelming and overwhelming. I have little to no obligations, aside from work, but there are so many opportunities for me to explore. I can be spontaneous without being unresponsible." 
Talking about the things they have been able to do with their free time, "I've spent a month and a half designing and building a website and portfolio to launch an online store. I attended a rally at the capitol on a whim to protest abhorrent bills passing through the subcommittee. And I have been able to read a few books! Graduating pushed me to take control of my life and provided much-needed breathing room." 
Even though Foglesong loves the freedom they now have with their schedule, they sometimes think about what might have happened if they had continued through the second semester. 
"Being on your own with little guidance gets lonely, especially when you are closer to most of your teachers than your classmates. To be transparent, I wouldn't be here without my teachers, so it's been a difficult transition. But I wouldn't change a thing. I'm not burnt out from homework and am in the best place I have been in for years mentally." 
Aurelia Kruger is a former Ames High student who graduated a year early. Like Foglesong, Kruger never planned to graduate early, but the COVID-19 pandemic changed her plans. 
"When Covid hit and I could take online classes, I ended up enrolling in so many that I had enough credits [to graduate]." 
Kruger was dual enrolled with Ames High and homeschooled, so she did not have to abide by the high school credit requirements. She was able to get all the credits needed to graduate a year early. Having nothing better to do during the pandemic, she continued to take more classes. However, she did not go straight to a four-year institution. 
"I was 15 when I stopped doing high school work, so my parents didn't want me to go straight off to college. They signed me up for a couple of DMACC (Des Moines Area Community College) classes to keep me in school." 
From there, Kruger was able to figure out a path forward that worked for her. 
"Turns out I was going full-time right off the bat and I would be close to my associate's degree in computer information systems with the classes I originally planned to take. So my plan then became, and still is, to get my associate's degree from DMACC and then go to a four-year college in the fall of 2023." 
When asked about how early graduation affected her life, Kruger responded positively. 
"I honestly believe that the quality of my life has improved since I left high school. The first year out was a little rocky, I bit off more than I could chew in terms of course load, but I don't think I ever regret leaving Ames High early." 
Like Foglesong, she also appreciated the freedom she had with her new schedule, and the ability to budget her time for what she needed. 
"My life is still mainly school, and I work more than ever, but it's not sitting in a classroom all day and that is such a blessing for me. I was never someone who could pay attention well during class, turns out I had ADHD and an auditory processing disorder, so having that ability to self-study was a game changer." 
Kruger recommended considering early graduation, saying "I've never felt more confident in myself than I do now. It takes a bit of time to get the hang of things outside the structure of high school, but it's so incredibly worth it. I say dive in with both feet." 
While early graduation definitely isn't for everyone, certain students may have more success leaving the high school building earlier, taking time to figure out their next moves, and moving forward in life on their own unique path.
Leave a Comment
Your donation will support the student journalists of Ames High School. Your contribution will allow us to purchase equipment and cover our annual website hosting costs.
About the Contributor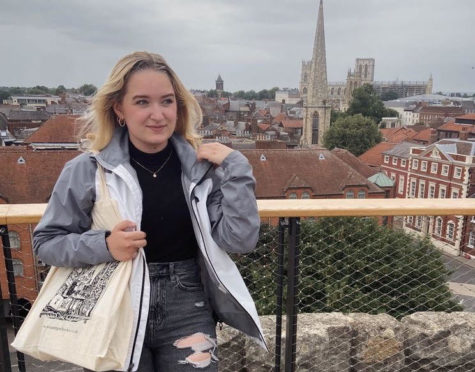 Lily Lupardus, Editor-in-Chief
Lily is a senior who currently serves as Editor-in-Chief. On campus, she has been involved in band, pep band, and orchestra. She enjoys watching soccer...