Ames High students share Thanksgiving traditions
Food has always been the essence of Thanksgiving, with the entire family helping with the meal preparation. People usually cook turkeys, stuffing, gravy, sweet potatoes, cornbread, mashed potatoes, and cranberry sauce, and pies for this festive feast.
Some Ames High students have shared their favorite Thanksgiving recipes and what they most value about Thanksgiving.
Senior Ania Chamberlin said, "My favorite part of the Thanksgiving meal has always been the sweet potatoes. If they don't have at least a few cloves of garlic, however, you can skip me."
As much as Thanksgiving is about the food, giving thanks to the family, friends, and community around is always a defining tradition of the holiday.
Senior Grace Mills mentioned, "My favorite part of Thanksgiving is spending time with my family that I don't see very often. I look forward to the French Silk Pie every year. Dessert is my favorite part of the meal."
These seniors have enthusiastically shared some of their most cherished Thanksgiving recipes. If you ever want to add something new to your Thanksgiving feasting traditions, go for it!
Ania's Super Poppin' Sweet Potatoes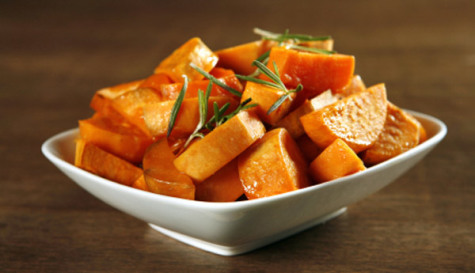 "No marshmallows or syrup here; if that's what you want just make pie. In this recipe, with only garlic, olive oil, butter, and salt I think they are worth passing around a second (or third time…). They taste (and look) especially good with dollops of cranberry sauce next to it on your plate as well."
Ingredients:
4 large sweet potatoes, peeled and cut into 1 inch chunks
5 cloves garlic, minced or crushed
2 Tbsp olive oil
2 Tbsp butter
curry powder or rosemary or thyme (optional)
salt and pepper to taste
Directions:
Pre-boil the potatoes until they are still fairly al dente.
Drain and coat with the olive oil, butter, and garlic (and other seasoning if you wish).
Place in a covered baking dish (ceramic or enameled cast-iron works) and place in oven at 350-425 degrees (depending on what temperature other wonderful dishes in your oven require).
Bake for about 20 minutes to 30 minutes, checking on them occasionally. Enjoy!
Grace's Terrifically Tasty Turkey in a Bag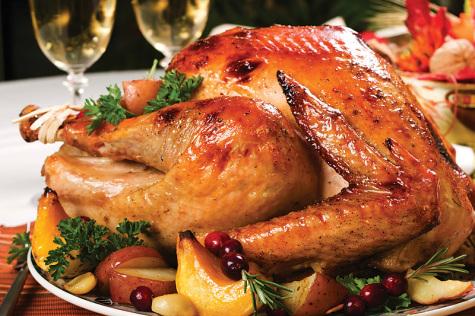 "This is our favorite family recipe because of how moist and juicy the turkey turns out."
Ingredients:
Simply A Turkey and Some Butter
Directions:
Stuff the turkey.
Brush with butter.
Secure bag and fold with paper clip.
Place in a broiler pan.
Bake at 325 degrees for 25-30 minutes.
DO NOT OPEN THE OVEN DOOR.
—
Have a great Thanksgiving filled with family, warmth, and gratefulness!
And if you ever want to cook something new, try out these recipes!

{Happy Thanksgiving!}