Reggie's (Un)Sleepout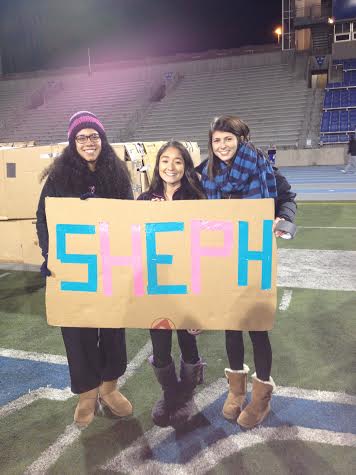 On the eve of November 8th, a group of about 30 Ames High students gathered in the Drake Stadium field and began to assemble a fort made completely out of cardboard, in which they were going to stay for the night.
Two groups, SHEPH (Students helping Eliminate Poverty and Hunger) and the Unitarian Universalist Fellowship of Ames (UUFA) Youth group, participated in this annual event called Reggie's Sleepout. Reggie's is a fundraiser that sponsors homeless youth in Iowa, started when a young man named Reggie was released from foster care died after about 3 months alone.
Reggie's began in 2006 by the Homeless Youth Shelters, raising awareness by letting people experience the cold for an entire night. For many, it's a tradition, but it was SHEPH's first year participating.
Participants must make a shelter out of just cardboard and duct-tape.
"My favorite part is the construction of the cardboard structure," said junior Karin Halverson, a member of the UUFA youth group. "Everyone helps assemble the structure, so there is lots of cooperation and you get to talk to the other people helping you build."
Even though Halverson has participated the past 3 years, the cold is something she's used to.
"When you crawl into the structure for the night, you can feel the cold seeping in," she said.
This year, the group made a longhouse. The outside was roughly 10 degrees colder than inside the structure, and that makes a difference. Senior Phaedra Lipsey, a SHEPH leader, said, "When we all finally crammed into our structure, we were able to see that our hard work was going to keep us warm."
All the participants, however, had to be out of the stadium by 7 AM. To most, it was a surprise to be evicted out of the structure and into the cold so soon.
"I didn't get a lot of sleep," Lipsey said.
During the night, there were different events that participants could engage in. There were "dance parties" and a Boxed-In contest, but the SHEPH/UUFA group was satisfied playing Mafia in a circle by the fort.
Food, however, was an aspect of the night that didn't stay true to the reality of homeless youth. There was mac and cheese for dinner served, pizza came at 11, and there was a constant supply of trail mix and pretzels in the "Snack Shack" available for all.
Regardless, this event lets Iowans get a taste of what it is like to not have a place to call home or a bed that is guaranteed for you to sleep in at the end of the day. "I know that there is actually a very large homeless population in Iowa, but they often are not visible," Halverson said. Ames residents especially aren't exposed to this sort of thing very often.
Visit http://www.reggiessleepout.org/ for more information.