Avise the Greatest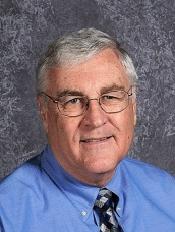 On most weekday mornings, Associate Principal Mike Avise can be found greeting students in the front lobby, offering a warm welcome to each student entering the building. Throughout each day, Avise is hard at work as an administrator, managing everything from PSAT testing to the master schedule.
Ready to pass the torch after 40 years in education and 20 years at Ames High, Avise says he's proud of Ames High's students and the efforts of those in the administration.
"I think we do a good job for kids. I think whether they're going on to university or going on to become welders, we have opportunities for them," Avise said. "I think overall that we're a school that's going to give kids a good experience when they come here."
Avise said he decided to enter education because of its impact on young people. "There was an important job that needed to be done, and I thought I'd be good at it," explained Avise.
After earning both his bachelors and masters, Avise was drafted into the Army for two years. "It paid for my doctorate," Avise said. "I was married at the time and it paid for the birth of our first son." Avise went on to work as principal in Sioux City, Council Bluffs, and Dexter before arriving at Ames High.
While retired, Avise plans to travel and visit his grandchildren with his wife Mary Ellen. Avise also plans to supervise new student teachers as Iowa State, as well as continue his role as a Stephen Minister, providing personal and confidential support for people who are facing life's challenges.
"I like the people I work with, the office staff," said Avise. "And I get to interact with a lot of pretty neat kids."