Spring Break in Oman
Out of all the incredible, out-of-the ordinary Spring Break trips out there, the voyage 8 Ames High Arabic students went on was particularly worth envying. Instead of visiting colleges and getting stressed out or skiing in negative thirty degree Colorado weather, this group of students travelled to Oman, an Arab country in northeast corner of the Arab peninsula and south of the Arabian gulf. With instructor Mr. Klass, they explored the culture, land, and language for two weeks.
Before going, Mr. Klass had high hopes for all things inspirational for his students, and also possibly setting a trend for years to come with Arabic students. "As you know, we have French trip and long established program," Klass said. "For Arabic, there's not a lot of… things out there."
Many of the students who went emphasized how excited they were to become immersed in a different setting."I eagerly anticipate seeing what it's like– customs I like better than ours, customs I'm glad we don't have, places I've never been to before– it's going to be a ride," junior Brynna Bargfield said.
Similarly, junior Kelanie Crosswait said, "I'm excited to see the other areas of this great big world." Concerning the Middle East, a common misconception is that it cannot be the "safest"– however, Crosswait described it as the wrong way to look at it, and she stressed, "[Safety] is not an issue in the areas we're going! I'm most scared of the long plane rides."
The plane flights there and back totaled around 30 hours (that's not including a 6 hour car ride both ways in addition). Bargfield was not looking forward to "jet lag coming back," and junior Kyle Schaudt said that he needs to find a way to sleep. "[I was] trying to get Asher to hook me up with sleeping medication, but he wouldn't do it…I'll find some way [to sleep]," Schaudt said.
Before taking the flight on the morning of March 8, the travelers researched history and geography, but they wanted to experience it when they got there. Although Bargfield said she was excited, especially for "camping with Bedouins," (in the desert!) the group tried to experience firsthand instead of anticipating or predicting it.
Concerning luggage, books, study materials, and toilet paper were on the packing list. "[I'm trying] to pack light," Mr. Klass said, but Crosswait had some different ideas.
"I made sure to pack my camel riding pants," she said. "I can't be seen riding a camel without them…" And perhaps the strangest item, but completely reasonable, Bargfield declared she was bringing toilet paper. "When going overseas, you're never sure what you're going to find," Bargfield said.
The attire accepted in Oman is a little different as well. "I was able to get away with showing below the collarbone, just below the elbow, and between the knee and calf most days," Bargfield said.
"You have to have your ankles and elbows covered when we go in the mosque," said Schaudt, but he and the other guys planned to dive right into the culture instead of dwelling on differences from the United States. "All the guys…are going to buy one or two of the traditional dresses of the Omanis" Schaudt said. "[They're] white robes, and you either wear a kuma [a hat] or a musar [a turban] with it."
"I am most excited for the kids," Klass said. "[I hope] that it opens them up to the beauty…of the world; that there is a lot of good out there." And, even though the trip is over, the students certainly did get an exciting time out of Spring Break during those two weeks. To get the real scoop on how the trip went, though, you will have to ask one of these world-travelers themselves.
Leave a Comment
About the Contributor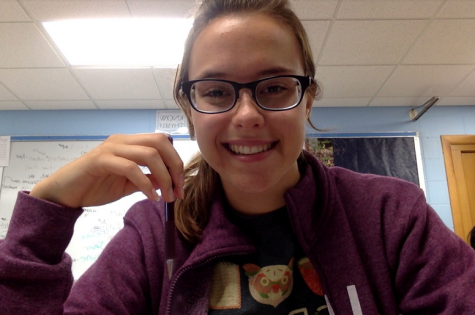 Ella Bartlett, Editor-in-Chief
Ella Bartlett likes to write just about anything that is remotely interesting or strange. She is ecstatic about being Co-editor in Chief with William Fowler,...