Female Athletes – An Afterthought
Why this scandal shouldn't have ever happened.
The NCAA's blatant disrespect for the women's tournament, all during March, which is Women´s History Month and the month that International Women's Day is in, is absurd. 
By even giving them anything shows that they thought about a weight room, if they forgot then it's seen as just a mistake. By giving them the "weight room" they did showed the women and the world what the NCAA views their worth as, they reduced them down to a couple of yoga mats and a set of dumbbells. This is exactly how the players and coaches feel as well. 
"Thank you for using the three biggest weeks of your organization's year to expose exactly how you feel about women's basketball – an afterthought." Said Georgia Tech's head coach Nell Fortner in a letter to the NCAA. 
What is even more frustrating is that there's legislation in place to prevent this from happening. Title IX is the Education Amendment of 1972, it "prohibits sex discrimination in any education program or activity receiving federal financial assistance … No person in the United States shall, on the basis of sex, be excluded from participation in, be denied the benefits of, or be subjected to discrimination under any education program or activity receiving Federal financial assistance." colleges and college athletics clearly fall under this category.
After countless excuses, that were continuously refuted by the players, the NCAA fixed their mistake, but the damage was already done. The day of and after the topic was discussed all throughout the sports broadcasting industry. On the Jason Martin Show on Fox Sports Radio, Jason Martin said, 
"But talking about equitable treatment as it relates to weight rooms, amenities, and testing protocols, that to me is just common sense decency and what's right and what's wrong, and the NCAA, as usual, got it horrifyingly wrong and got called on it by the student-athletes… The women were right this was shabby treatment. Yeah, I understand men's college basketball does make money, and women's hoops really doesn't but you still have to treat them fairly." They have to treat them fairly, it's not a question of 'they should' but 'they have to'. It's the law. 
The biggest argument made in support of the NCAA's actions is about money, but the NCAA is a non-profit organization, so this shouldn't matter. The women's tournament does make money. With an agreement with ESPN viewership and profits have steadily increased. Even with this it still comes down to Title IX- it doesn't matter who makes more money because by law they have to be treated equally. 
Inequality in sports seems to be a continuing trend, but with athletes like Sedona Prince who blew the scandal wide open, there may be a chance of improvement. The NCAA will be held accountable.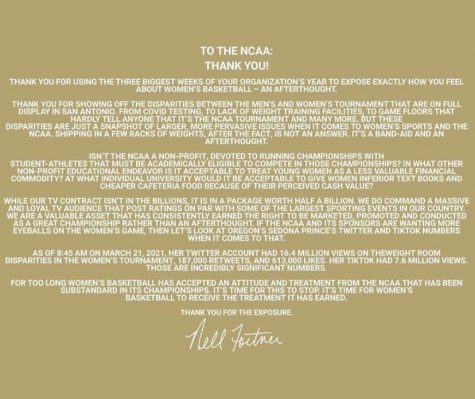 Leave a Comment
Your donation will support the student journalists of Ames High School, and Iowa needs student journalists. Your contribution will allow us to cover our annual website hosting costs.
About the Contributor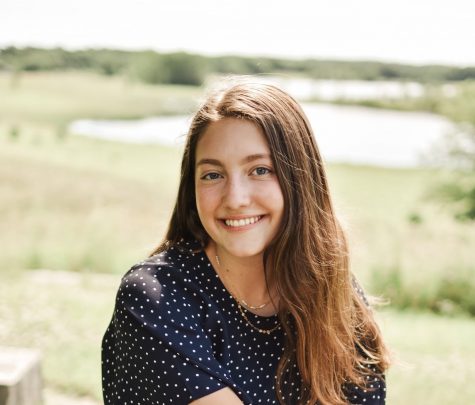 Haley Reeves, Editor In-Chief
Hello, I'm Haley, I'm a senior and I play some sports and stay at home with my dog most of the time.