Now Trending
LADIES: Take a moment to give one of AHS's female attendees a once-over in a socially acceptable (read: not sexual) way, and I can promise you that she'll be wearing either Birkenstocks or a sheer, printed, sleeveless or long-sleeve button-down with an itsy bitsy pointed collar, probably in either a pastel hue or a bright blue.
Denim has invaded closets since the beginning of summer. We are 100% returning to the 90's, featuring crop tops, high-waisted and/or belted everything, and tucked-in shirts.
Summer also brought in the sleeker, classy look, introducing the pointed-toe flats and ankle-strap sandals from June until whenever Ames get hit with 30 degree weather.
GNTLM: Check out those pastels that have found their way onto guy's shorts recently. Express must be making a killing. Birkenstocks are not a trend unique to women's fashion; those neutral tones have crossed the gender line, joining AHS Yacht Society's signature Sperry shoe.
SPOTLIGHT: On the topic of his summer style Asher Bergman (Senior) said, "Madras shirts, seersucker shirts and shorts. I like a little bit of prep during the summer."
Bergman has been AHS's poster-boy for the classic V-neck, his wardrobe consisting of everything from plunging to modest necklines.
"J. Crew is always fantastic," Bergman said when asked about his summer haul. "I'm just preparing for fall basically, a few sweaters, more button downs, a peacoat. I got a nice pair of desert boots at a nice department store in Australia, too."
FORECAST: Freshmen ladies, you might find after your first homecoming that if you shopped at Younkers, Macy's, or Dillard's, your insecurity levels skyrocketed due to accidentally going twinsies at the dance with 4 other girls [whom you probably don't like or just never noticed before].
Post-homecoming trends will bring in the statement pants and (surprise) even more denim.
Moto boots will be popping up in stores, carrying on the studded and rebel trends. The unisex look will be returning with reinforcements with skinny and boot-cut jeans, and combat boots will become the new pointed-toe flat in womenswear.
Leave a Comment
About the Contributor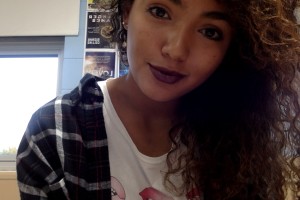 Carla Beghin, Reporter
Carla Beghin is a senior at Ames High and it's her first year (officially) on the Web staff. Her favourite colour is red and her spirit animal is a panther....