Encanto: A Colombian Perspective
Encanto is Disney's latest animated production, and certainly one of their best movies to date. The movie was released on November 21st, and since then, has received glowing reviews and audience affection. While I shared many opinions with these viewers, I had a different set of expectations as I sat down at the theater; one based on my family's history and culture. 
My last experience with a movie set in Colombia resulted in my whole family leaving the theater. Over and over, Colombia has been defined by drug cartels and gang violence in the media. While I knew Disney would not dare enter such dark territory, I was still anxious about the quality of representation my people would receive. Thus, I attempted to keep my expectations low. Sitting in the theater for the first Disney movie I had watched on the big screens in years, I was pleasantly surprised.
From the beginning, the movie is chock-full of references to famous Colombian literature and history. Honoring the work of Nobel Prize-winning author Gabriel Garcia Marquez, the plot follows a similar format to his most famous book— A Hundred Years of Solitude. Like the novel, the movie is about one family and their connection with magic. Themes of generational trauma resulting from forced displacement are also covered, which are a huge, often underplayed part of Latino culture. Thus, the story intelligently intertwines tough themes with a kid-friendly viewing. 
The opening number of the show, "Welcome to the Family Madrigal," is a fast-paced introduction to all the family members. This format stays true to the nature of many Latino families: large, diverse, and full of energy. "Surface Pressure," a song that recently charted 54th on Billboard's top hits, comes shortly after, introducing some of the central tension of the story: that your greatest gifts/talents may become a curse when you are defined by them. Even the most blessed can live unhappy lives under such pressure. This theme resonates outside of fiction, and thus, creates a cast of characters with great depth.
Encanto is full of dynamic scenes, musical numbers structured in a creative way that keeps viewers fully engaged. For example, in "We Don't Talk About Bruno," the landscapes range from a bright plaza to a dark, green-lit room in a matter of seconds. In Isabella's turning-point song, "What Else Can I Do," brilliant flowers fill the screen as two sisters race across rooftops. The animation of La Casita never bores, always assisting the family in creative ways. Camilo also presents a fun gag character, spontaneously transforming into other townspeople. 
Most importantly, to me at least, was the fact that the movie stayed true to Colombian culture. Sure, most songs were firmly in the Disney category. However, the inclusion of "Colombia, Mi Encanto" and "Dos Oroguitas", by two of Colombia's current biggest artists, Carlos Vives and Sebastian Yatra respectively, sufficed. While the exact setting is unclear, Encanto does a fantastic job of including pieces of Colombian culture from all over the country. Mirabel's dress is from Vèlez, a region bordering Venezuela. Pots hail from Valle de Cauca, a region on the Pacific full of sugar cane. Ruanas are also shown, which are worn by people of more mountainous zones. Food is also done justice, with ajiaco and arepas on display throughout (though I would have loved to see empanadas as well). 
Encanto satisfies all fields. From intelligent storytelling to catchy musical numbers, from creative animation to cultural accuracy, Disney surpassed my expectations on all counts. Though the movie may no longer be in Ames theaters, I urge everyone to find a friend with Disney+, prepare some popcorn, and stream Encanto.
Leave a Comment
Your donation will support the student journalists of Ames High School, and Iowa needs student journalists. Your contribution will allow us to cover our annual website hosting costs.
About the Contributor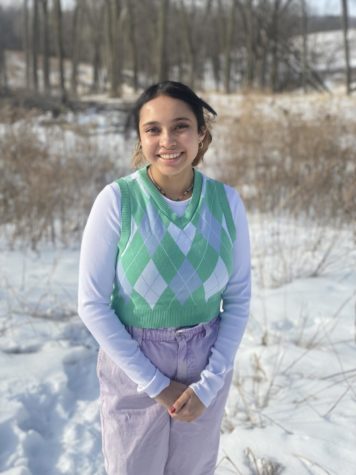 Sophia Cordoba, Editor-in-Chief
Sophia Cordoba is a senior at Ames High, and more importantly, Editor-in-Chief of the Web. Amongst other things, she enjoys keeping up with the news despite...