With Great Power, Comes Great Responsibility (Spoilers)
If perfect doesn't describe it, I don't know what will. It is the culmination of three franchises, three stories, and one cinematic legacy. The theater was filled with fans of all ages, whether they first saw Tom Holland in Captain America: Civil War, or the original Spider-man movie in 2002 which starred Tobey Maguire. Some may even vaguely remember Andrew Garfield's loveable but decisive run from 2012 to 2014. Nevertheless, forget what anyone else says, THIS is the most anticipated movie of the year and with that, 
***HEAVY SPOILERS AHEAD***
***!!!LAST CHANCE TO TURN BACK!!!***
Now that I've warned any who may come across this review, let's dig into this masterpiece of a film. 
Spider-Man No Way Home picks up right where Far From Home left off. Right after Mysterio revealed Spider-Man's identity to the world, Peter Parker's world is turned upside down. 
Since I watched and grew up with Tobey Maguire's rendition of Spider-Man and secretly loved Andrew Garfield's run as well, I was more than excited to see their return. I, however, wasn't sure if they were going to show up, but given the leaks, it had to happen right? If they didn't show up, it would have been one of the most critical misses in cinematic history. When Charlie Cox returned to play Daredevil though, I knew at that moment that I would be reliving my childhood at some point before the movie was over.
Before we get to that though, I want to focus on Iron Man jrI mean Tom Holland's Spider-Man, sorry. I wasn't a huge fan of his Spider-Man portrayal. Don't get me wrong, the acting was great, but for some reason, I just wasn't feeling that same giddiness that I did with previous films. That all changed in this movie though. 
Spider-Man No Way Home does a phenomenal job of portraying the essence of Peter Parker AND Spider-Man. I love that they explore the dynamics of each part of the character and how each side impacts the other. I told myself that I was prepared for Aunt May to die, it was the finale of the trilogy, somebody had to die at this point, and that if Ned died then I would be worse off. I was wrong. There was no preparing for the gut-wrenching performance Tom Holland phenomenally delivered. I cannot lie, I did shed a couple of tears.
I didn't expect a mood lift after such a tear-jerking performance, but something amazing was in store for the audience. Andrew and Tobey jumped into the scene and oh my, I'm not sure how I didn't pass out at that moment. It was exactly what I had been waiting for almost a year and a half now. I was delighted to see the three Spider-Men sympathize with each other since they knew themselves better than anyone before jumping into the final act.
Jon Watts did an overall phenomenal job with balancing the amount of screentime each of the three Spider-Men received. Given that it was Tom's movie, he obviously got the most screen time, and the other two were fairly balanced. The villains were also handled really well, seeing the return of Alfred Molina, Willem Dafoe, Jamie Foxx, and more. Instead of basic bad guys, they each received a good amount of character development.
I must say, my personal favorite scene was when Andrew caught Zendaya's "MJ", essentially redeeming himself after the saddening end of "The Amazing Spider-Man 2". The emotion and general mini-story that was present in those 40 seconds was a great refresher for Andrew's character.
Overall, Spider-Man No Way Home is a fantastic movie for the ages and is a great watch for any casual or hardcore comics fan. It's slightly less enjoyable for non-comic fans, but still enjoyable nonetheless. If you've already watched this movie or plan on watching it soon, I hope you have as much fun watching it as I did!
Leave a Comment
Your donation will support the student journalists of Ames High School, and Iowa needs student journalists. Your contribution will allow us to cover our annual website hosting costs.
About the Contributor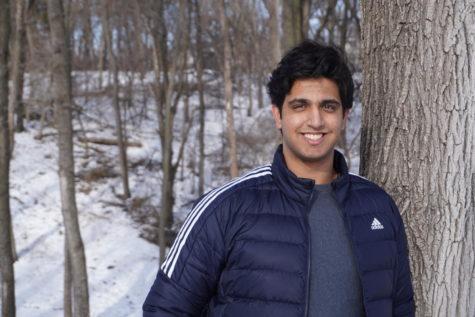 Humza Maqsood, Multimedia Editor
Humza Maqsood is a Senior at Ames High. He swims for Ames High and likes to play table tennis for fun. He really enjoys watching movies and is also a member...