Girl's Soccer 2018
Sam Stuve, Academics and Arts editor
April 30, 2018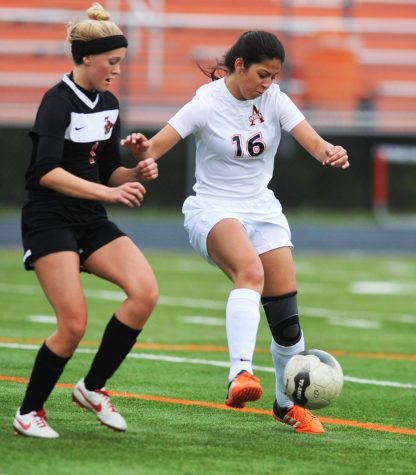 Last year, the Ames High Girls soccer team made history by winning the state championship. Now they look to defend their title this season. Defending a state title is not something that is easy to do. But that is the task that the girls soccer team has ahead of them. In order to do so, they need to have certain goals that they must reach in order to get there. 
 "Our goals for this season was to focus on having a positive environment and good chemistry by encouraging each other on and off the field. In the past we've been seen as the underdogs so we want to earn the respect of other teams and be seen as elite not only to ourselves but to other people, we will accomplish this by improving every game and giving our 120% each time" Senior Nikki Aroche stated.

Winning a championship is a truly awesome experience, for those who are lucky enough to attain that success. It's something that makes memories and it is something that an athlete will likely never forget. 
 "It felt amazing being a part of the team that won the state title that year. Making history at Ames High School is something I nor any of the girls could ever forget & I couldn't be more proud of the way we played that season. It took an incredible amount of teamwork, dedication, perseverance, & hard work that allowed us to achieve success" Aroche said.
Normally a championship team would have a decrease in athletes who try out for the team, however this is not the case for the Ames High soccer team. The number of athletes who tried out the for the team, doubled from last year's team. That is a great sign for the future of the team, because the more players you have, the more potential you have and it can bring the best out of your players. 
 "When I first heard how many girls were trying out this season I only felt pure joy. Whether the numbers directly correlated with winning state the previous season, the spike in number of girls trying out reminded me of why I love the sport of soccer. It's such a good feeling to have people that understand how much soccer means to you and everyone in this sport is so supportive of each other throughout tryout season that it was a good bonding experience as well. We had more girls than expected, but that's always a good problem to have! I'm happy that soccer is finally getting the recognition it deserves & hope it keeps growing!" Aroche said.

You can follow the Ames High Girls soccer team on twitter @AHSGSCR for updates on the team, live results, and their upcoming games. This season is bound to be a fun and intriguing season for your Ames High Girls soccer team! Best of luck!