Munch Bunch Feature #1
In the beginning, when God created the almighty WEB, there was a need for food to be devoured and places to be discovered. To begin this wild adventure, the founders of the WEB created the Munch Bunch.
The Munch Bunch strived to eat good food and prosper. But sadly, it went extinct in the terrible year of 2012. An era came to an end.
But… As the new and improved WEB staff came to be, the MIGHTY MUNCH BUNCH was resurrected- taking on the Mucky Duck Pub as our first conquest.
* * *
It's generally hard to come by a really good British Pub in a small town such as Ames. It's even more difficult when one of the only ones located in your town is a restaurant you've never heard of. When the suggestion was brought up to go to the Mucky Duck, the only thing that came to mind, for some, was the fact that duck rhymes with suck and multiple other words. Half the group had low expectations; yet, we were in for a big surprise.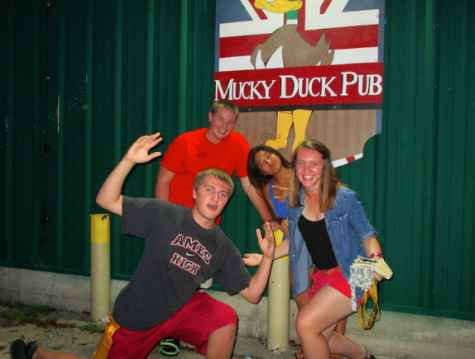 When we first walked in the pub, which previously was a gas station, we fell in love with the atmosphere. Everyone was welcoming and chatting with one another. The decor added to the mood of the place. The walls were lined with various products of the UK including candies and other edible goods. The ceiling had mugs hanging down with the names of past customers on them. There was a jukebox installed on the wall that was available for customers to play music on for a fee.
After some confusion about how the Munch Bunch was supposed to order, we sat down and a waiter came to us. Our group ordered several different menu items, and all were delicious. The Fish and Chips was cooked to perfection, with tender meat and a crispy crust. The chips, which are known as fries to Americans, were large, and much better than your local McDonald's greasy fries.
The food was a hit. For the first time in awhile, the Munch Bunch did not have a lot to say because we were all so deeply excited about eating our food. Ranging from fried cheese curds, to scones, to bangers and mash, and even spotted dick (a British pudding), everyone was satisfied. Sure, fried food may not be everyone's cup of tea, but that night– the food, company, and vibe hit the spot.
After a satisfying meal, Marcus, the owner, came up to our table and asked if we were staying for the Doctor WHO premiere. We took a look around and found many people had dressed in costumes for the occasion. Though we wanted to stay, many of us had other things to attend to and declined. Marcus had prepared a raffle for the event and was walking around asking other customers, like us, if they were staying. He made conversation with several usual customers.
All and all, the return of The Munch Bunch was a success. Through a wonderful evening of comfort food delicacies and an eccentric gathering of community members, the WEB staff left with smiles all around.
10/10 would do again.
Munch bunch this issue includes Anna Ogilvie, Jenny Zhou, Stephanie Shin, AJ Foegen, Aaron Marner, Lauren Gentile.