Seth Henschen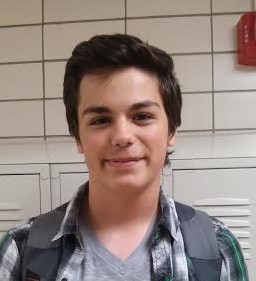 Have you ever seen a guy with a easy going smile on his face? What about a guy who can seemingly talk to anyone? Finally, how about a guy who wears an excessive amount of plaid and spends his time in the basement or in the courtyard between classes? If you have answered yes to any of these questions, you may have been thinking of sophomore Seth Henschen.
When his friend was asked to describe him in one word, he was described as calm. But that only covers the surface. Seth Henschen was born on January 5th, 2000, and that could arguably be said to be the greatest day in humanity. He has one sister Megan, who graduated from Ames high last year, and when asked about his parents, he said they have taught him to be helpful to anyone in need, and to always accept everyone.
In the future, he plans to attend Iowa State University, and has chosen the field of psychology. Currently though, he is really liking his sophomore year, and enjoys all of his teachers. He is also looking forward to getting his required classes done.
When not in classes, you can often find Seth in Speech Club. He encourages everyone to join Speech Club, because "it is fun and you get to perform." He also enjoys reading fantasy novels, and watching action movies with "lots of explosions."
His favorite superhero is Nightcrawler, because "teleporting is amazing, and having a tail is awesome," and if he were on a deserted island and could only bring with him 3 items, he would bring a bible, because it is important to remember, a classic rock CD, and a CD player, so he could listen to his classic rock.
So next time you happen upon this kind gentleman in the halls of Ames High, stop and say hello! He welcomes any kind of conversation.