The Revenant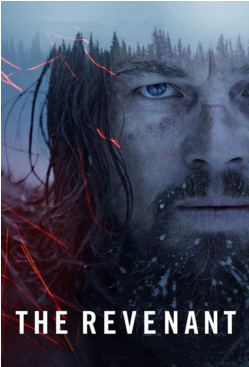 Intense films have the power to transport us to a story unreachable by our lifetime. Sitting in a dark movie theater, or laying on our beds with the bright computer screen lighting up our faces we are able to experience the character of the movie press through unbelievable struggles and overcome obstacles we can barely comprehend. Many times knowing that their pain is separated from ours, but this film completely submerges you into their minds with brilliant cinematography and acting.
The Revenant conveys messages of survival, love and revenge. The story is based loosely off of Hugh Glass, an 19th century fur trapper who allegedly survived a bear attack and was left for dead. He proceeded to crawl back to camp to seek revenge on the man that left him. The description for the movie reads: "While exploring the uncharted wilderness in 1823, legendary frontiersman Hugh Glass (Leonardo DiCaprio) sustains injuries from a brutal bear attack. When his hunting team leaves him for dead, Glass must utilize his survival skills to find a way back home to his beloved family. Grief-stricken and fueled by vengeance, Glass treks through the wintry terrain to track down John Fitzgerald (Tom Hardy), the former confidant who betrayed and abandoned him."
This compelling film was nominated for 12 Oscars, two of which are best picture and actor in a leading role. Maybe after all this time this will be the film Leonardo Dicaprio will finally win his Oscar in. If you get the chance, watch The Revenant not only because of the incredibly  raw story it tells and the feeling of physical exhaustion after, but the satisfaction that when you finish watching it you will be even warmer than when you started.