Apple's Facelift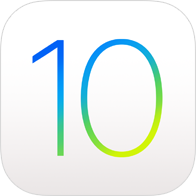 When you download iOS10 and your phone restarts, you are presented with the all-too-familiar lock screen. But this time around, it's a little different. It brings some new tricks. Swiping from the left takes you to the Today screen, which is far more customizable than before. It's a quick way to access widgets, which can do things like show you upcoming events from your calendar, Siri suggested apps that you commonly use, weather, the latest news and your favorite people to call. Of course, there's a bunch of built-in Apple widgets that are available to add to the Today screen, but plenty of third-party developers are building them as well, including The New York Times, The Weather Channel and, even Google. If you swipe right from the lock screen the camera is activated.
Unlocking your phone is the next big change you run into. Instead of using your muscle memory to swipe to unlock, our tired little brains have to retrain ourselves to click the home button to unlock. Now, I know this is an incredulous feat for some, so I encourage you to keep trying to click instead of swipe. If after sometime this proves too difficult, there is always the option of going into your settings and changing it back. Apple understands how difficult change is for the modern American.
The Messages app was in for a massive revamp. You can now send your messages in "invisible ink", "gentle", which is a smaller font, "loud" which is a larger fount, and "slam". It's also possible to change the background of the messages as well. If you tilt your phone to the side you can send handwritten messages. Too lazy to reply to texts? If you press and hold texts you receive a bubble appears and you can "like", "dislike", "heart", "haha", "!!" and "?" incoming messages.
The maps were in for a total face-lift. Previously apple's maps app gathered a lot of hate. Now, Maps works seamlessly with other apps, providing turn by turn navigation as before. One my favorite favorite features is the parking feature with the maps. iOS10 is smart enough to know when you park your car and will drop a pin on the maps. No longer are the days of wandering the streets looking for you car, if you are a bit forgetful.
One of the best updates to the iphone is the ability to delete Apple's terrible useless apps that are built in. Don't have an apple watch but the app is on your phone? Delete it! Think that Tips is useless? Delete it! Confused to why you have voice memos? Delete it! Never even used videos? Delete it! It's like spring cleaning, but better, your phone will feel lighter than ever!
iOS10's control center is excellent. When you swipe up there are options for turning on and off, airplane mode, wifi, bluetooth, do not disturb and portrait lock. There is also Brightness control and a new Night shift mode that makes the screen easier on the eyes when winding down at night. The flighlight, alarm, calculator and camera are still there. If you swipe right on the control center the whole widget is available for controlling your music.
This update came with a lot of new changes but they are built seamlessly into Apple's infrastructure. This operating system is cleaner, cleverer and more convenient. It makes your everyday actions and simple use of your phone faster than ever.