D'nel van der Berg: Is She A Mean Girl?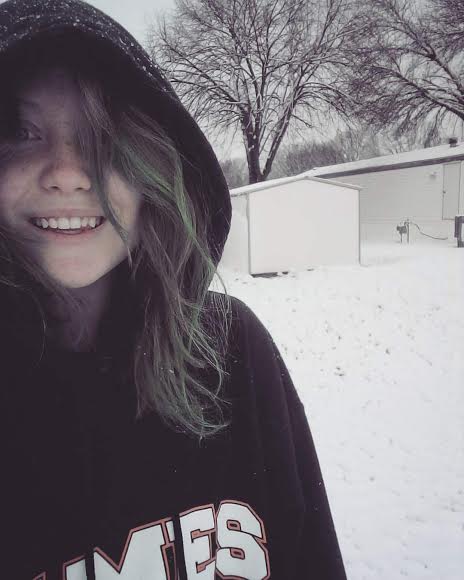 "If you're from Africa, then why are you white?" these are the words foreign exchange student D'nel van der Berg hears every once in awhile when walking down the halls of Ames High. With her once orange hair and South African origins, it's no wonder D'nel has often been likened to Mean Girls main character, Cady Heron. Unlike her movie counterpart, though, D'nel is driven, talented, and not a mean girl.
D'nel grew up in the city of Durban, which is the largest city in South Africa. Her father is a minister, so she often spent her childhood moving from place to place. Although she moved a lot, she always seemed to come back to her home, Durban. As D'nel grew up, she learned to enjoy many different activities." If I was somewhere in the country, I would race motocross. It's my favorite thing. If it was on the coast, I'd be out on a bodyboard." She said. On the subject of motocross, D'nel went on to say, "You get to do really cool stunts, and it's one step closer to dying, which is pretty cool. It's pretty much just an adrenaline rush. A lot of the time, you don't know if the whole course is wet, you don't know if you're going to land it correctly, you could flip your bike every time."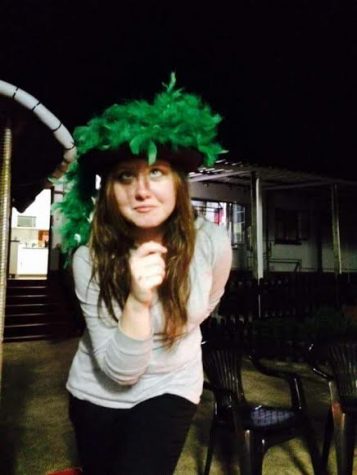 since coming to Iowa, D'nel has had to adjust to a lot of changes in a short amount of time. "I'm trying", she said. "it's very cold and I get sick at the slightest thing, and I don't understand it." she then continued with, " I miss doing sports. I'm not a winter person, so I haven't been playing any sports, but I'm excited for it to start again."
Not only has D'nel had to face the inevitable weather changes, she has also had to adapt to the practice of veganism. 3 years prior to coming to Iowa, she decided to stop eating meat, and become a vegetarian. "I don't agree with the commercial production of meat. I understand it on a low scale, but I don't understand the commercialism. The animals well being, and the fact that it is a sentient being, get's completely overridden by greed, and I don't agree with that. So personally, I decided that I'd stop helping them in any way." D'nel has been fortunate enough to have been placed with a host family that shares her own ideas, although, they are not vegetarian, instead choosing to be vegan, and avoids using animal products and by-products such as eggs and dairy products. "it's a little weirder," she said. "I'm used to drinking milk, but now I don't, and every time I drink milk again, it's like, eww, this is weird. I don't like this. I like being vegan, a lot more than I liked being vegetarian." On the subject of continuing her path as a vegan once she returns to South Africa, D'nel said, "I'm going to try to the best of my abilities. My parents are carnivores, so it'll be a bit of a mission."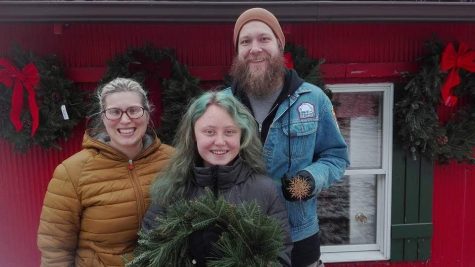 it hasn't all been such a struggle, though, she has seamlessly fit into all her classes and has joined a variety of extracurriculars to keep her busy. One such includes the recording studio here at the high school. "So, what we do is we invite people to come and record their music, and we'll record it for them and we'll put it on a CD and then we'll have you sign some things so that we can play it on the air at school. We are trying to get this music out on actual radio stations so that these kids that have this talent can get out there." she then went on to say that, "It's a real passion of mine. I have been doing senior sound technician for ages, and it's really fun to see these kids, see their talent because I have no talent."
D'nel has a variety of passions besides music. She enjoys activities such as running, swimming, and grass hockey. Her favorite classes include anything art related, like Advanced Foods and 3D Art. Onion rings make her heart sing and she loves any food as long as it has pasta in it. If D'nel could have dinner with any 3 people, she would choose Nelson Mandela, Tim Burton, and Johnny Depp, so she could kick him a few times.
D'nel is a pretty amazing person, so before you make another inevitable Mean Girls joke, which we all are unfortunately guilty of, take a moment to think about the person behind the insane references. She may just surprise you.