Reggie's Sleepout – Ames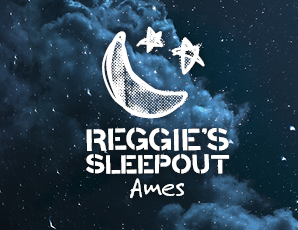 Mark your calendars for March 25th! For the first time ever, Reggie's Sleepout will be held in Ames. It is one of the most well-known community events in Central Iowa. The event has been held in Des Moines since 2001, raising more than $1.7 million for funding to support child and youth homelessness in our communities. This event was kickstarted by Ames High's own Nahla Atroon and high school and the committee members have been meeting since December 2015 to brainstorm, plan and pull off the event.
"During YLA (Youth Leaders of Ames, a once a month leadership activity for juniors) we had Andrew Allen, the CEO of YSS (Youth and Shelter Servies) came and speak to us about Reggie's Sleepout DM and how it's always been a dream of his to bring it to Ames, and if we wanted we could drive this idea into play. Immediately when I got home I emailed him and we set up a meeting and it's been going on ever since then," said senior Nahla.
The purpose of Reggie's Sleepout is to raise much-needed awareness about local homelessness and money to fund three specific programs that work to remove and assist homelessness in our community. ACCESS (Assault Care Center Extending Shelter and Support), which addresses "domestic and sexual violence through services that enhance safety, empower survivors", ERP (Emergency Residence Project), which provides shelter and assistance to those facing homelessness head on with short-term housing, transitional housing and emergency rental and utility services so people can stay in their homes, and YSS (Youth and Shelter Services), which has been helping local communities for over 40 years with prevention, treatment and transition programs for children and families. Register before the event and start collecting donations! Go to http://www.reggiessleepout.org/ames/ to register, donate and watch the donation tracker move up!
While spending one night under a poorly constructed cardboard home can't even come close to replicating what it feels like to be homeless, this "under the stars" overnight event can provide some insight into the lives of people who don't have a place to call home.
"Reggie's Sleepout was eye opening in terms of what it might be like to be homeless. It was challenging to make our fort, interesting to see everyone else's creations, and fun to watch Reggie's Got Talent and RunDSM. We only got a glimpse of being homeless, and we were still very privileged, but it gave me even more respect for people who live like that every day," said senior Zoe Hamstreet.
Last fall, a group of seniors, Zoe Hamstreet, Jourdan-Ashle Barns, Nahla Atroon and I attended Reggie's Sleepout Des Moines to get a feel for the event. We came prepared with lots of tape and cardboard (more than we thought we needed, but barely enough). We starting building our base, then the walls, and then put the roof on top. Teamwork, patience and creativity were very important when constructing our home for the night. During the event there was food, games and entertainment.
"The hardest part of making our house was figuring out how to make it stable. We had lots of grand ideas, but not all of them worked out due to a lack of stability. It was difficult to make it all work with just tape and cardboard," said senior Zoe.
Register as soon as you can and on March 25th gather some friends, cardboard and more duct tape than you think you need and head to Jack Trice for a night full of fun, education and giving back, but don't take my word for it. "Go online and register for a team, raise money within the team, and come to camp out. The top raiser will get prizes like eating dinner with athletes at ISU, signed athletic apparel, and much more!" said senior Nahla.