Gabe Greenlee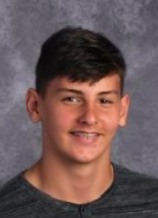 Sam Stuve, Academics and Arts editor
March 28, 2018
They say that talent runs in the family, I believe that Ames freshman Gabe Greenlee is an example of that. Gabe plays three sports, Football, Wrestling, and Track. Many believe that Gabe is a talented very talented freshman. As a wrestler I can say that Gabe is a talented wrestler. Gabe's dad, Justin Greenlee was at wrestling state champion at Waverly Shell-Rock, a three time All American and two time state finalist at Northern Iowa, a Pan American Games champion in 1993, and an inductee in the National Wrestling Hall of Fame, class of 2016.
Gabe's dad is currently a assistant wrestling coach for the wrestling team, so he has the opportunity to coach others, as well as his son Gabe. When asked what it's like to have his father as a coach, Gabe responded with the following:
"Having my dad as a coach is pretty special, it means a lot to me that he is willing to put in just as much time and effort as I do on and off the mat to help me grow as a wrestler and a person. Another key thing I get from having my dad as a coach is his straightforwardness, If I do something wrong he's going to be honest with me and he's not going to sugar coat it but he will also break it down and work with me until the issue is resolved. I feel like I just don't have that same connection with other teammates or coaches."
Some people believe that because of the success of their father, their son has increased expectations when compared to the average student athlete, I personally do not believe that this should be true. However some believe that it is.
"People expect big things from me so there will always be added stress associated with wrestling and living up to the expectation of being as good as my Dad. I have a lot of improvements to make before I can compare myself to him but if I sell out and give it everything I got every time I go to the wrestling room or out onto the mat I know good things will happen. I'm just going to focus on myself and  keep doing what i'm doing and success will come." Gabe said.
Freshman year is a year full of opportunities to make a name for themselves in high school. Freshman year is the beginning of something new, something potentially great for some. Looking back at my freshman year, I remember all the missed opportunities that I had, I could have been much more successful if I had the right work ethic and the right attitude. I know that I am not the only one who reflects on their freshman year.
"I learned a lot this season. I had lots of success and took some big steps in the right direction, but after having the same goal of qualifying for state for the past year it was a big disappointment to come close but fall short. Hopefully I can use my  losses I took as positive feedback, and turn the leftover anger and dissatisfaction from the season into motivation and keep feeding off of it and building for next year." Gabe said.
After I conducted my interview with Gabe, I realized that he is much more than a talented athlete, he is actually quite the character.
"Outside of sports I don't do much but I like to sing (I have the voice of an angel). I also like spending time outside and playing fortnite with the boys and chillin with my friends." Gabe said.
Gabe has a lot going for him and has a very busy schedule this summer, full of unique opportunities. He is very optimistic about his future. I wish him the best of luck going forward!
"Im looking forward to having a hopefully successful track season, but I'm still constantly wrestling and preparing for whatever is next whether that be nationals at the end of march or Freestyle state and Nationals in may and june I have my mind set on placing All-American and having things really come together for a good season next year." Gabe said.