Interview with Joe Strong
With Mrs. Dieter retiring, Ames High was short one Choir Director. Luckily, Joe Strong was just around the corner to help, and he's doing a great job.
Strong has been teaching for 8 years now, the last 7 being up in Green, IA, not to be confused with Greene County. He taught at a school called "North Butler" which was significantly smaller than Ames High. 
For Strong, teaching choir is a different adventure every day. 
"So you're teaching choir, what's that like?"
"It's different every day… It's kind of, kind of unpredictable because I could study the music and go 'okay this spot is going to be tricky. And then we get to it the next day and the kids blow right through it but something else pops up and I'm like, 'okay, so it keeps me on my toes, but it's, it's a lot of fun."
Interestingly enough, Strong hails from a family of musicians, with a father who sings, a grandmother who taught piano, and a mother who played in a band. the inspiration for Strong's career came from his own choir teacher.
"So what inspired you to become a teacher? And if you don't mind, more specifically why a choir teacher?"
"Sure. I mean it sounds cheesy but it was my choir teacher when I was growing up, we had the same music teacher choir teacher from fifth grade on up, and she was just amazing. She was very, very warm, very caring, but at the same time, held you to such a high standard… I wanted to do that."
Strong also shared what his favorite part about being a choir teacher is.
"What's your favorite part about teaching?"
"I mean, it's got to be the kids right, it's, it's always fun to see what the kids can do. I mean, I've found that most high school kids, they'll, they'll rise up to about any standard you set for them… So I think that's my favorite thing is, is pushing the kids until they get that light bulb moment."
It's so good to hear that his favorite part about teaching is seeing the students grow their skills. It shows that Strong really cares about the students and improving the school overall.
Strong also wants students to know that although he's a teacher, he still wants the students to know that he's one of them. He'll make mistakes and he'll learn from them, just like his students.
"What would you like your students to know about you?" 
"I want my students to know that I'm still human too- like I feel like sometimes teachers get put up onto these pedestals of 'Oh these people know everything about everything' and we don't. We will find out for you if you if you ask a question."
"So, what do you do for fun, watching sports or, you know, finding music instruments?"
"I'm a huge sports fan, I love football, I love basketball, I'm a huge Iowa State fan. Yeah. So, not that that played any role in me coming to Ames, but it's definitely a bonus. Like we're right here. So I love to watch sports. My friends and I, we picked up Magic the Gathering in college, and so we play some of that- it's a card game."
"So, you know, Where'd you grow up?"
"So I grew up in a tiny town called Elgin. I went to high school, I went to high school at Valley community but it's not Western Valley. So I grew up in the northeast corner about 40 miles south of Decora, which is where Luther College is located. That's where I'm from."
"Alright. Well, is there anything else you know you would like to add on to this? If there's one thing you wanted to put into the interview and you don't have to add anything else but if you wanted to, what would it be?"
"Come and join choir. We have fun here… Being able to push yourself into trying something maybe that's a little uncomfortable, a lot of a lot of great things get taught through choir. You can learn some independence, you can learn problem-solving skills, you learn how to just put yourself out there a little bit… We'll see you next semester."
Although we're sad to see Mrs. Dieter retire, it seems the Ames High School choir is in good hands with Joe Strong.
View Comments (2)
Your donation will support the student journalists of Ames High School. Your contribution will allow us to purchase equipment and cover our annual website hosting costs.
About the Contributor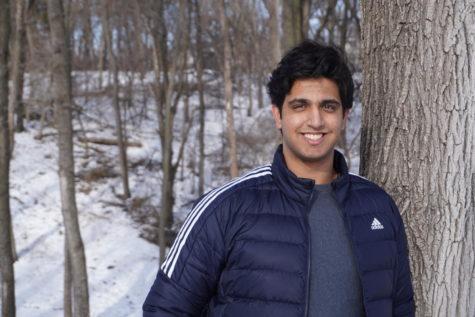 Humza Maqsood, Multimedia Editor
Humza Maqsood is a Senior at Ames High. He swims for Ames High and likes to play table tennis for fun. He really enjoys watching movies and is also a member...