The Meaning of Ames
Principal Evan'€™s recent actions to create a safe and more close-knit student body exemplify the very values that brought me to Ames. His efforts to protect the diversity of Ames High is exactly how a principal should act and many could learn from his approach. I attended Roland-Story Elementary School from kindergarten through 4th grade. Though Roland-Story is a perfectly good school district and has many good programs and teachers, issues became apparent that led to my family looking around for a different school system to go to for the rest of my time before college. Practically speaking, the fact that we lived (and still live) in Story City gave us only two real options for where to open-enroll. The first option was Gilbert'€™s school district. My parents were told that Gilbert schools were small, academically rigorous, safe, and above all, personalized. The major selling point for Gilbert was the small size, which many people believe leads to more teacher interaction and a better education as a whole. The second option was Ames' school district. "More"€ was the argument for Ames. More classes, more opportunities, more students. Ames school administrators assured my parents that I wouldn'€™t get lost in the mass of students. The decision was, in hindsight, both the easy and the right one. In terms of academics, Ames schools are top-tier in almost every possible way. More (and higher) AP scores, better ACT composite scores, and contrary to the unthinking opinion of many, having smaller schools (and classrooms) have negligible effect on student performance. Some studies I've seen view the connection between size and success to be more based on the pool of students more than anything else. The other major factor in our decision to go to Ames was diversity. My parents wanted to make sure that I could have the experience of gathering to learn and enjoy life with a diverse group of students. Ames has nearly six times as many Asians, three times as many Hispanics, and over 12 times as many African-Americans as compared to Gilbert. When one considers the size of each school, it became abundantly clear that Ames High is a melting pot. I love how my best friend and I can share interests and beliefs but have totally different backgrounds. Only in Ames can the son of a Michigander become best friends with the daughter of a Belgian and an Ethiopian. Spence'€™s actions recently, including highlighting the ability of students to turn to teachers as a potential resource and the introduction of a small sticker on classroom doors signifying a supportive teacher, are exactly the kind of actions that brought me to Ames. In adolescence, it'€™s often the case that whatever is different must be changed. Differences in skin color, culture, political and religious beliefs, sexual orientation, all are to varying degrees under siege and made to felt like they must conform to the dominant view of "normal."€ This attitude regrettably can make its way to adulthood, as a few parents proved with their description of Ames schools as being "€œtoo urban"€ prove. Code words, it seems, are still used in the 21st century. Spence's recent actions that I mentioned earlier are the embodiment all that I believe Ames stands for. It sends a message that our diversity is a strength and that our community considers a safe environment to learn and grow essential. In a world where more and more people are sorting themselves, whether by marriage, lifestyle or choice of friends, into groups based on economic status or political belief, this community has stepped back and made sure that homogeneity is not a good thing. Ames, both the ideal and the reality, is something to be prized and protected.
Leave a Comment
Your donation will support the student journalists of Ames High School. Your contribution will allow us to purchase equipment and cover our annual website hosting costs.
About the Contributor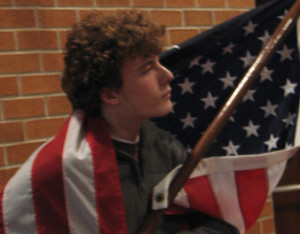 Christopher Jackson, Reporter
Christopher Jackson is a senior at Ames High School. A three-year member of the Web, he writes about student issues and has been compared alongside his...