Uganda Trip Seniors Making a Stand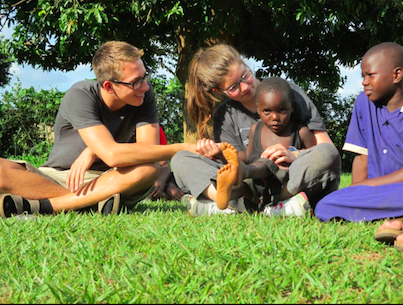 Ames High's Senior body looks a little different this year. The 2014 Global Builder's Life to Life Uganda trip was unusually filled with more than half of the students that went, are rising seniors.
"Going as a junior gave me a chance to inspire other students to go on the Uganda trip –or a similar one," said senior Phaedra Lipsey. "I have one more year to impact this community before moving on."
The group of juniors and seniors spent three weeks in Kaliro, Uganda building a primary school in a rural village, with 28 students and four adult chaperones.
Tim Mooney, who teaches history and world studies at Ames High, noted the difference with many students coming back to Ames after spending time in Uganda and the impact those students will have this year.
Senior Will Franke said the trip made him more aware of the changes he could make at home this year. "It definitely made me want to get more involved in various groups like SHEPH."
Lipsey remembers the adjustments she had to make when she arrived back in Ames
"My transition back to Ames was hard! Looking at electronic screens gave me a headache, and it was hard to remember I could use the tap water to brush my teeth," Lipsey said. Many juniors had similar habits and opinions.
"When I arrived home I definitely had a bit of a culture shock," senior Katie Petersen said. "It took me a while to get back in my regular routine and in many ways I still haven't fully reverted to what I did before the trip." A few mentioned how they now think twice about commercial/materialistic wants.
"It is hard when you are surrounded by technology and mass social media." Petersen said.
Even though transitions may be hard, the group reflects on the powerful impact the trip had on them and how it affected who they want to become.
Senior Makenna Peterson admits that "the trip definitely gave me the push I need to finish my senior year strong."
Petersen has similar thoughts,
"I feel as though I have a greater insight into both myself and a small part of the world. This will allow me to bring new ideas and thoughts to AHS."
The returning seniors encourage rising juniors and seniors to consider going on the Uganda project, but at the same time, to consider giving back to their own community as well.
The possibilities of service are endless, and one does not have to fly halfway across the world to experience the joy of giving back and changing someone's life.