Underground Tunnels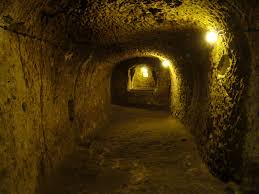 As Sonja Paulson goes from class to class, she must weave through a gaggle of slow-moving teenagers in order to reach her destination. Once she makes it to her class, she sits down with a huff, and wistfully wishes for something to help her get from class to class faster. Something to use to avoid all the crowded hallways, especially when she had to get all the way across the school. An alternative option, for when she didn't feel like braving the cold of the courtyard, or facing the heat of the hallways. Suddenly, an idea pops into her head. Underground tunnels.
Upon being asked (hypothetically) if they would like an underground system of connecting our school, people had some different views. Some thought that it would be a cool idea. However, others believed it would essentially be another set of hallways, with no purpose than providing a sketchy area for the school. Abbie Eastman had a different view to it altogether. "Like adventuring underground tunnels or someone prob died down there and I saw a ghost, or both? I probably would like it. It adds to the Ames High aesthetic. And there might be ghosts that have the answers to tests!"
While it would be completely impractical to create a set of underground tunnels, it is fun to think of the possibilities of what would come from one. Unfortunately, the chance of getting something like that is very slim, so the people of Ames High won't ever get to see this dream come true.