Now trending: November
LADIES: A warm welcome (ha ha) to the near-freezing temperatures we will consider balmy come March.
In come the peacoats and Goodwill sweaters! The soft crocheted scarves! The fantastically woolly socks and leg warmers! Also pumpkin spice anything and everything.
We'll keep seeing combat boots and Dr Martens, but they'll be paired with yoga pants and skinnies instead of short shorts. Knee high boots are cycling back in, as per usual, this year in pleather with buckles and zippers.
A plea to those with style: discourage your friends from wearing the Uggs/yoga pants/Northface jacket combination. Try a Goodwill sweater with socks n' Stocks.
Berry colors like reds, dark pinks, and dark purples will warm up your look until spring, on nails, lips, and accessories. Autumn oranges and dark greens will be sticking around through Thanksgiving, another holiday that really shouldn't be allowed to have themed jewelry.
Finally, a shoutout to Lumberjack Club: those flannels will be popular in the cold months and plaid will be in this coming winter.
BOYS: Kiss goodbye the knee-length athletic shorts and bring on the dark-wash jeans. Please. Maroon is finding its way onto sweaters and cardigans in menswear.
More and more suede shoes are popping up, most notably those with bright, contrasting soles and neutral tops.
Advice from junior Will Franke and senior Rohan Nayar: hit up the Gap, Tommy Hilfiger, Zappos, and Superdry for some quality clothing.
SPOTLIGHT:Fashionable Ames High junior John Topf has a penchant for statement colours and contrast.
"I like the grunge look," said John, "and the 80s bright colors and short shorts."
He also likes either very tight or very loose, draped clothing. His recent purchases include an oversized green tee, a cat-patterned shirt, a big, navy blue and white knit sweater, and some brightly colored socks; again, statement colours.
"I like to shop at American Apparel, H&M, and Urban Outfitters," Topf said. He also recently started looking into Topman (an excellent choice).
"Plaid is not flannel," John Topf said.
He's right. Flannel is flannel.
HALLOWEEN: Halloween has come and gone with all the candy and costume fanfare. It's quite interesting to look at the variety of costumes around town from campus' college parties to the itsby bitsy trick or treaters.
For example, there are thousands of sexy pumpkin costumes sold every year to university students who gives out Milkyways to 4 year olds in more realistic pumpkin costumes. Notice that the actual idea doesn't change, just the ratio of fabric to skin showing, in the case of women.
University guys seem to suffer from the same lack of creativity. Gentlemen, if you were a football player when you were 6, you'll probably do a repeat of the costume at age 20, maybe for a different team and with a bit more booze and warpaint thrown in
Don't forget to check your younger sibling(s)'s candy for razor blades! Happy Halloween, Ames High.
Leave a Comment
About the Contributor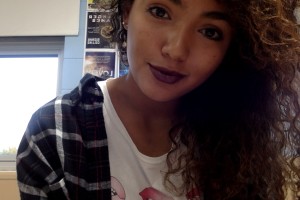 Carla Beghin, Reporter
Carla Beghin is a senior at Ames High and it's her first year (officially) on the Web staff. Her favourite colour is red and her spirit animal is a panther....