Inspired by the world: Fashion show takes on the risky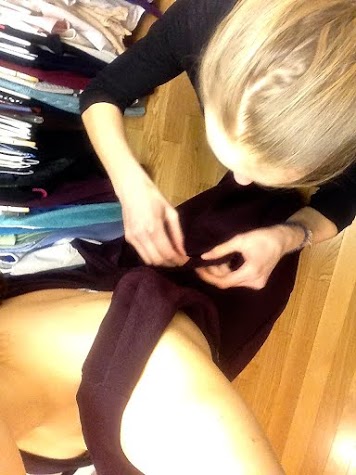 On the 26th of March, 25 brave, creative souls from Ames High will present what they have been working on since September in the annual Fashion Show.
Zoe Pritchard, who is the senior leader this year along with Andie Newell, points out the positive differences between this year and last year that will make this show even more eye-catching and thought-provoking.
"We've been collaborating with Worldly Goods," Pritchard said. Their theme this year, which serves as a general guideline for the designers to work within, is "Global," and they're featuring the local fair-trade[?] clothing store Worldly Goods.
"We talked about fair trade ethics…[and other] issues in fashion," Pritchard said. "Your clothes came from somewhere and it's important to know that."
It is also important to Designer Alex Ostendorf is working on a European summer dress for his collection. " I have always loved fashion… [it's] the best way express yourself."
Some other designs include a line called "Jurassic Park" by Max Eness, and a line based on Pixar short films by Lila Rice and Zoey Lazere.
"I love when everyone brings in their designs for the first time [in the fall]," Pritchard said. "Seeing [them] inspires me." The transition from a pencil drawing on a piece of paper to the runway in the auditorium is a huge process.
The judges are 4 ISU Fashion major students, and there are 6 categories including Most Creative and Audience's choice.
Through all this hard work, one person has been facilitating and giving support: Mrs. Vanwaardhiezen. Fondly known as Mrs. V, she is the FCS teacher here at the high school.
"Andie and I have someone to go to to run our ideas by. She hosted us for a holiday cookie party and a fabric swap. She is a great mentor," Pritchard said.
Reaching out to fans and supporters is important. Fashion Show 2015 has a blog called Humans of Ames High Fashion, and a twitter page as well. Check them out at ahs-fashionshow.tumblr.com and follow them on twitter at @ahs_fashion.